Chamber Challenge Update #2 - We're at $4000
---
---
[ Follow Ups ] [ Post Followup ] [ California Scuba Diving BBS ] [ FAQ ]
---
Posted by Chmaber Day 2003 on April 06, 2003 at 19:02:05: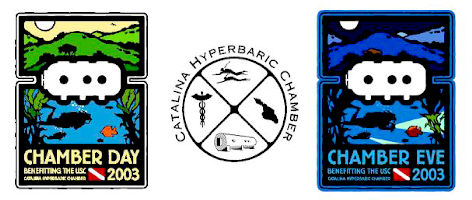 Yahoo!!! We're at $4000, thanks to the generosity of the individuals listed below.
As many of you knowe, the Challenge provides needed extra funds for the Chamber, outside of what we can raise through the daytime and evening events. The "problem" with those is that, since there are a finite number spots avalable on the boats and a finite number of spots available for the dinner, there's only a certain amount of money we can raise.
However . . . the Challenge is (in theory) limitless. Or at least only limited by the generosity of the diving community that relies on the Catalina Hyperbaric Chamber for those "gosh-I-hope-it-never-happens-but-I'm-glad-the-Chamber-was-there" moments.
So we hope YOU accept the challenge of the Challenge and will donate whatever you can afford. Although we suggest a $100 donation, ANY amount, larger or smaller, is welcome. You can donate either by calling 310/652-4990, or by going to our secuire website (linked below) and using the on-line form.
Whatever works for you, we'd love to have you join us. So . . . who's next????
Ken Kurtis
Chairman, Chamber Day/Eve 2003
------------------------------
2003 CHAMBER CHALLENGE
(Updated & posted as of 4/6/03 6:50PM - last posted 3/30/03 1:45PM)
TOTAL TO DATE - $4,000
New contributors:
Mary-Lou Quinn & JP Pylkkanen - $100
Karl Huggins - $500
The Bozanic Family - $100
Joe Takahashi - $100
The California Endowment (matching grant) - $750
Hollywoodivers - $100
Douglas Dive Club - $100
Anne McCourt - $100
Gary Romanik - $100
All donors to date (inlcding those mentioned above):
*** GOLD [$1000 and up] ***
Kendall Raine

*** SILVER [$500 and up] ***
Reef Seekers Dive Co.
Jim Krasne
Karl Huggins
The California Endowment (matching grant)
*** BRONZE [$100 and up] ***
Mary-Lou Quinn & JP Pylkkanen
The Bozanic Family
Joe Takahashi
Hollywoodivers
Douglas Dive Club
Anne McCourt
Gary Romanik

---
---