Chamber Day/Eve update #2
---
---
[ Follow Ups ] [ Post Followup ] [ California Scuba Diving BBS ] [ FAQ ]
---
Posted by Chamber Day/Eve 2003 on April 09, 2003 at 10:36:05: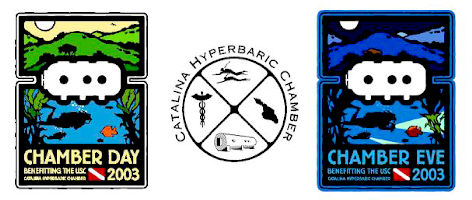 We're just 31 days from Chamber Day/Eve 2003 (may 7) and the momentum is starting to build. We hope you'll be joining us as this event succeeds when the entire dive community bands together for the greater good. Remember that you can sign up for events by calling
Reef Seekers Dive Co., the coordinating store, at 310/652-4990 or by using the secure server on our website (link below). Please remember that for boats, you can ONLY sign up by calling.
CHAMBER DAY - We're about half-full right now and some boats are almost sold out. As of yesterday (4/8), the Sundiver had 2 spots left, the Encore had 2 spots left, the Great Escape had 10 spots left, the Psalty V had three spots left, and the Sea Bass had two spots left. We're not fully updated on some of the sponsored boats (because the sponsoring group keeps that list) so other boats are probably filling as well. The bottom line is that if there's a specific boat you'd like to be on, the sooner you get signed up, the better your chances are of actually getting on that boat. It's $75 for the day, plus many boats are doing food-and-air-included this tear, which adds another $20. (Some boats are still doing an
open galley so you'll just pay for that on-board day of the event.)
THE FLYING DUTCHMAN - This is the ideal boat for those who can't take the day off since it doesn't really exist. But you'll still get to "dive" the event, get 5 daytime raffle tickets, and will get a special limited-edition commemorative "I dove the Dutchman"
t-shirt.
CHAMBER EVENING - We have probably have 20 tables designated for specific groups and now need to find the people to fill them. So check with your local club or store to see if they're sponsoring a table, and simply call us directly (310/652-4990) and get yourself
assigned to an "open" table. (Or give us a call and ask for a table to be assigned to your group.)The evening event is $75 and includes full access to the Aquarium of the Pacific from 7:15-11PM and a sumptuous sit-down catered dinner.
CHAMBER CHALLENGE - Updated separately from this posting. These are direct donations to the Chamber as part of the overall event. Although we suggest a $100 donation, any amount (large or smaller) is welcome. Donors are listed on the website as well as in the "Challenge Update" postings on this and other newsgroups.
That's where we are for now. Your continued support is what helps our Chamber stay available to SoCal divers on a 24/7/365 basis.
Ken Kurtis
Chairman, Chamber Day/Eve 2003

---
---