Challenge passes $9000 (update #4)
---
---
[ Follow Ups ] [ Post Followup ] [ California Scuba Diving BBS ] [ FAQ ]
---
Posted by Chamber Day/Eve 2003 on April 16, 2003 at 11:51:38: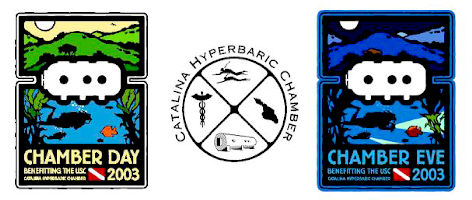 Now that tax time is past, how about thinking about giving some money to the Catalina Hyperbaric Chamber instead of to Uncle Sam?
We're happy to report to you that the Chamber Challenge (a major part of Chamber Day/Eve) is now past $9000 . . . and climbing. But we can't do it without your help.
These donations, along with what will be rasied through the daytime and evening events, help keep the Catalina Hyperbaric Chamber on solid financial footing. And with all the talk of budget crisis and government cutbacks, do we really want to put our Chamber in a precarious position? In a perfect world, we wouldn't need to resort to fund-raisers for such a vital safety net for divers but . . . the world's NOT perfect and so here we are again.
We've got three weeks until Chamber Day/Eve (May 7) and there's time to add your name to the list of concerned divers willing to step forward and make a difference.
So . . . WHO'S NEXT???
Ken Kurtis
Chairman, Chamber Day/Eve 2003
--------------------------------
2003 CHAMBER CHALLENGE
(Update #4 posted as of 4/16/03 @ 11:45AM - last posted 4/11/03 @ 10:15AM)
TOTAL TO DATE - $9,075
New contributors:
Michael Reedy - $1000
Gloria Sallick - $500
Sand Dollar - $150
Rich Lockyer - $100
Diver.net - $100
Mark Lacaillade - $100
Henry Gittler - $75
All donors to date (including those mentioned above):
*** GOLD [$1000 and up] ***
Kendall Raine
Troy Bagwell
Michael Reedy
*** SILVER [$500 and up] ***
Reef Seekers Dive Co.
Jim Krasne
Karl Huggins
The California Endowment (matching grant)
Sport Chalet
Scuba Schools of America (Montclair)
Gloria Sallick
*** BRONZE [$100 and up] ***
Mary-Lou Quinn & JP Pylkkanen
The Bozanic Family
Joe Takahashi
Hollywoodivers
Douglas Dive Club
Anne McCourt
Gary Romanik
Tom Wetzel
Scott & Cindy Stolnitz
Sarasue Essenpries
Jeff Hunter
Walker Berwick
Niki Dantine
Beth Clark
Jeanne Sleeper
Sand Dollar
Rich Lockyer
Diver.net
Mark Lacaillade

Other contributors [less than $100]
Henry Gittler

---
---