Chamber Day/Eve update #3
---
---
[ Follow Ups ] [ Post Followup ] [ California Scuba Diving BBS ] [ FAQ ]
---
Posted by Chamber Day/Eve 2003 on April 18, 2003 at 11:35:51: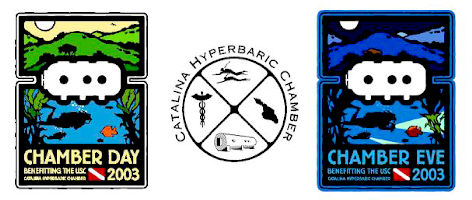 (Last updated 4/9).
----------------------
Here's where we are so far in a nutshell:
Chamber Day - 264 spots sold, 89 available, plus unlimited spots on the Flying Dutchman. Remember that boats can be booked only through the sponsoring group &/or by calling 310/652-4990. Do not callthe boat directly. Here are the specifics on each boat:
Aquatica (Open boat) - 26 available
Bottom Scratcher (Open) - 17 available
Cee Ray (Reef Seekers & Sport Chalet) - 11 available
Encore (Open) - SOLD OUT
Great Escape (Open) - SOLD OUT
Horizon (Sport Chalet) - 12 available
Island time (Sport Chalet) - 11 available
Magician (Scuba Toys & Westside Aquatics) - SOLD OUT (but can take "phantom" divers)
Mr C (Wreck Divers & West Coast Divers Supply) - 20 available
Pacific Star (Scuba Schools of America) - SOLD OUT
Psalty V (Open) - SOLD OUT
Sea Bass (Reef Seekers) - 4 available
Second Stage (Catalina Scuba Luv) - 6 available
Sundiver (Ocean Adventures) - SOLD OUT
Westerly (Douglas Dive Club & Dive 'N Surf) - 4 available
Chamber Evening - 222 spots filled (including comp spots to boat captains & a guest), up to 178 more seats available if we cap it at 400 seats total. (Only 78 seats if we cap it at 300.)
Chamber Challenge - $9075 last announced total.
Daytime raffle tickets sold pre-event - Roughly 1000.
BTW, Bill Wright (who gets all the prizes) did a count the other day and realized that we have 217 raffle prizes for the boat raffles. (These are the prizes that are awarded on each boat just for showing up, separate from the daytime raffle prizes that you buy tickets for.) So basically, 64% of the divers doing the event will win at least one prize.
However (as we're fond of saying) we can't do it alone. So we hope you'll continue to do whatever you can to join us for one or more elements of this event &/or encourage your friends and dive buddies to do the same.
The only way this event is a success is when we ALL work together to make it happen. Thanks for your support.
Ken Kurtis
Chairman, Chamber Day/Eve 2003

---
---