Reef Seekers/Great Escape Orca ID'd
---
---
[ Follow Ups ] [ Post Followup ] [ California Scuba Diving BBS ] [ FAQ ]
---
Posted by Ken Kurtis on November 11, 2003 at 13:29:44: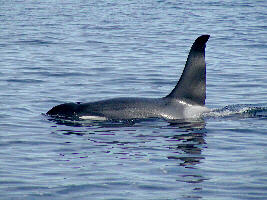 I just got off the phone with Alisa Janiger. She's a marine biologist over at USC who specializes in marine IDs and co-ordinates with folks up in Monterey about Orca sightings. She was VERY excited about our encounter on Saturday and provided some more info.
The guy we saw is known as CA 52. He's a male who they think was born around 1971 or 1972 (so he's a little over 30 years old) and they estimate that he's about 26-28' long. They've been tracking him off and on since 1992 but Alisa tells me that our encounter is the furthest south that they've seen him. And they say that the pictures that Terry May shot are the best shots they've ever been able to get of him. (So kudos to Terry for the shots, and to Don Banas for getting the boat close.) CA 52 used to always hang with another male, about the same age (they think he might have been a cousin), but they haven't seen him in a few years, so they assume that his buddy is dead.
Here's some of the sighting data on CA 52:
April, 1992 - East Anacapa
July, 1992 - British Columbia
1996 - Off the Oregon coast
1997 - In Monterey in February and April with about another dozen orcas.
1999 - Monterey
May, 2000 - Santa Rosa
2001 & 2002 - Sighted in Monterey
March & April, 2003 - Monterey
But perhaps the thing Alisa got most excited about was that they had a confirmed sighting of CA 52 on October 24 (ten days before our sighting) up in Monterey. He was with a group of 27 others whales and the presumption is that they were feeding on something big, since they don't congregate in those kinds of numbers unless food is plentiful. To know that only 10 days later, he's some 300 miles south may give them interesting info on the migration habits/patterns. On top of that, if they were eating up in Monterey, it may also explain why he didn't make a run at the little sea lion that was within 150' of him when we spotted him.
So, as Paul Harvey would say, now you know . . . the REST of the story.
Ken Kurtis
NAUI Instr. #5936
Co-owner, Reef Seekers Dive Co.
Beverly Hills, CA


---
---