Posted by Max Bottomtime on November 25, 2006 at 14:56:08:

Despite the green water and ten foot vis offshore Merry and I had a very eventful dive at Marineland this morning. It was a beautiful Fall morning with a few clouds but plenty of Sunshine. The ocean was flat and entry was easy through the clear water in the cove. We headed out for the long surface swim to the bouy over the Platform. The swim seemed to be taking forever and I told Merry it looked like we were too far offshore. Unfortunately I was right. The buoy is now MIA. We dropped down to 97 feet and began our swim along the silty bottom. We found several baby Mantis shrimp whose holes were only 1/2" wide. They were too camera shy. I later found my first Tritonia diomedea nudibranch. Scott and Margaret Webb found some earlier this year and I have been looking for one ever since. I see their pink eggs all the time but not slimy little guys.


As we got to 70 feet the bottom was covered with chopped mackerel bits, presumably from lobster fishermen. We were suddenly surrounded by about fifty cormorants and ten sea lions.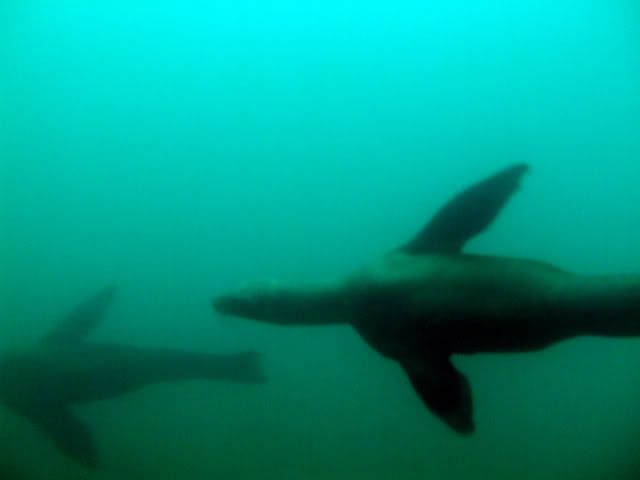 I've never seen more than one cormorant under water at a time. They kept coming right up in our faces.


There were a few empty shells that were now home to many species of critters including Brittle stars, barnacles, hydroids and a couple of Sarcastic fringeheads.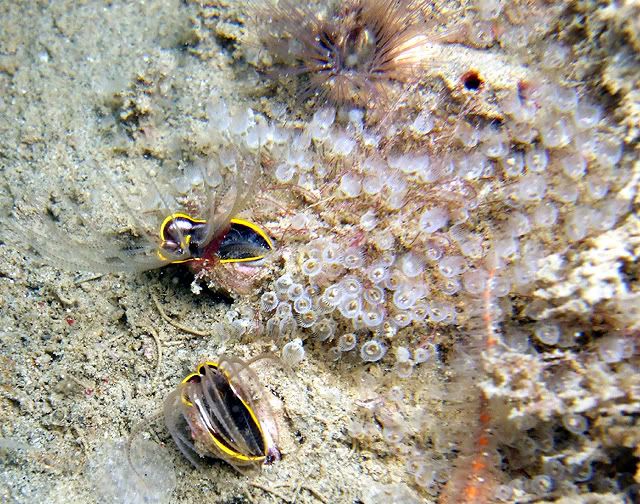 Anemones and a Yellow crab, Cancer anthonyi added a little diversion from the birds.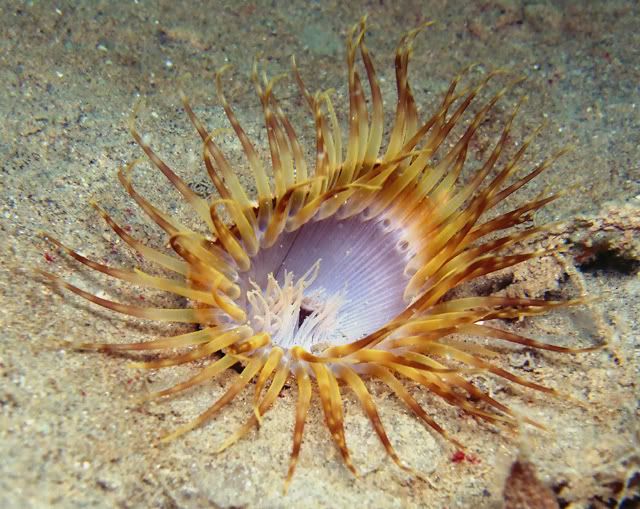 After a half hour surface swim, an hour underwater and a few more minutes on the surface we walked right out unscathed. The ocean had remained flat all day for a change.