Posted by Ian Wilson on March 09, 2007 at 17:16:28:

In Reply to: Wednesday Diving Aboard the Magician (Report + photos) posted by Ian Wilson on March 09, 2007 at 17:13:06:

This past Wednesday, Laura and I took the day off and went diving aboard the Magician with our friend, Krista, and our son, Alex. We had a ball. Itís the first time weíve been on the magician. It will NOT be the last time! Captain Jerry and the crew took care of us as though we were old friends and not paying customers.

The boat is clean as a whistle and obviously well looked after. The trip was absolutely top notch.

I really canít say enough good things!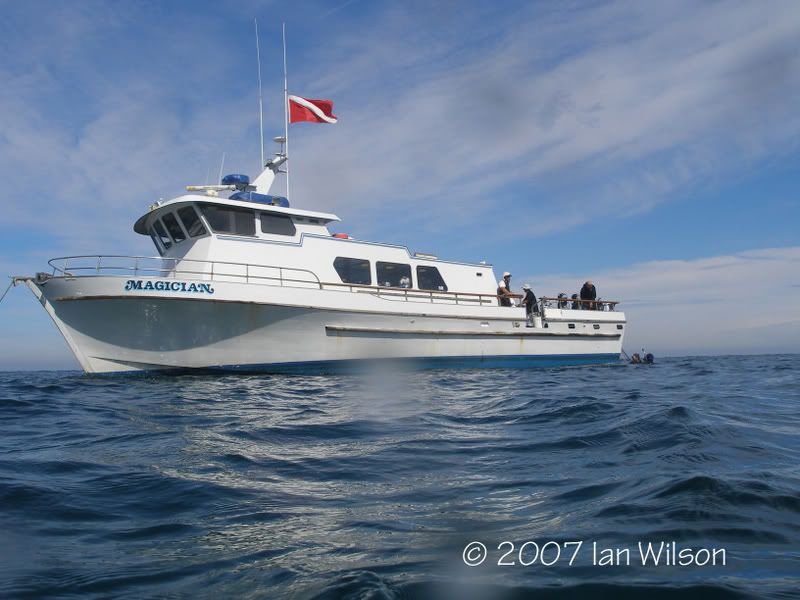 This was Alexís first dives after getting his OW. At 19, heís really at home under the water. His air consumption was way down. We both managed to hit the surface after 35 to 45 minute dives with 1100PSI or better on all three dives. Donít ask me the actual numbers because my POS dive computer took a dump after the last dive and refused to give up any information. (Sports Chalet took it back, gave me full value store credit and let me upgrade to a Suunto Vytec!!! - THANKS Sports Chalet!!!!)
Dive 1: Bird Rock
Vis: 10-15 feet
Depth: 50 FSW(ish)
Time: 30ish minutes
Temp: 60(ish)
Start PSI: 3100PSI End: ?
Alex and I saw about eight Janolus barbarensi (Santa Barbara Janolus)from about thumbnail size up to thumb sized. This was a first for me and for Alex (obviously). Unfortunately, every photo I took of the little buggers came out fuzzy.
Alex stuck right with me the entire dive. He turned out to be one heck of a good buddy! OOOPS! One of my shirt buttons just flew behind the desk.
On the Safety Stop, we hung out next to a kelp frond. I looked over and saw TWO more J. barbaernsi on the fronds!!!
Dive 2: Sea Fan Grotto
Vis: 10-15 feet
Depth: 50FSW(ish)
Time: 40ish minutes
Temp: 60(ish)
Start PSI: 2900PSI End: ?
WE hung out with Laura and Krista for this dive. It was just a "Wall Cruise" with nothing really special about it. Laura and Krista surface ahead of us due to cold.
Dive 3: Indian Rock
Vis: 15-20 feet
Depth: 50FSW(ish)
Time: 40ish minutes
Temp: 60(ish)
Start PSI: 2900PSI End: ?
Hereís Laura making her entry:

And hereís Krista: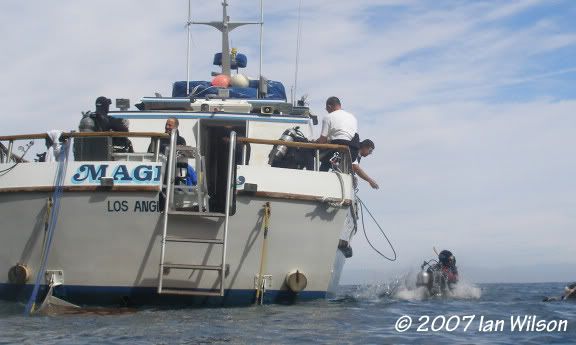 Alex and I found a crack in the rock with a handful of HUGE bugs! (And I didnít renew my license in JanuaryÖDANG!)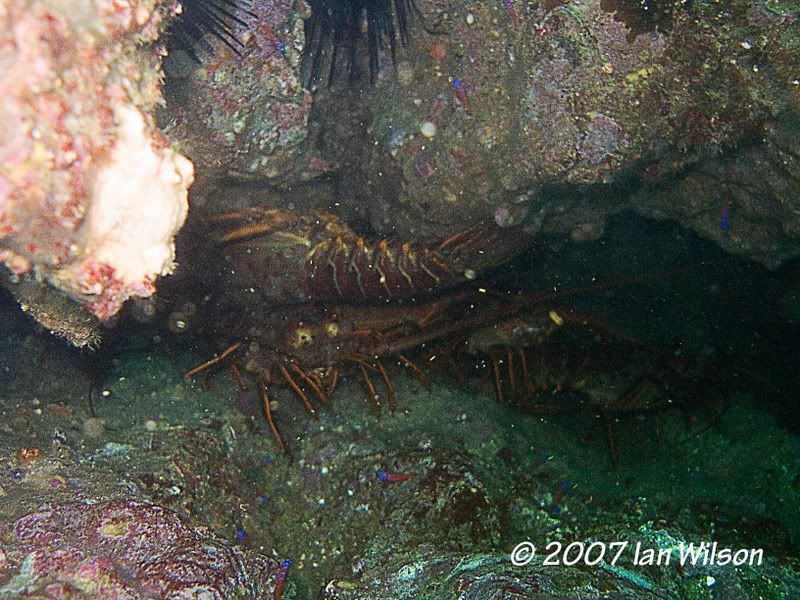 At least Alex got to see "bugs on the hoof" instead of the plate!
We also found a really cool Pleuronichthys coenosus (CO Sole) to play with. His (or her) eyes were just visible in the sand until I spooked it.
Alex managed to find a first class juvenile green abalone shell to bring home as a souvenir. I picked up a perfect large sized Lithopoma undosum operculum (Wavy Turban Snail trap door).
All in all, it was a fantastic day. Our fearless crew kept apologizing for the limited visibility due to the plankton bloom, but, we had a blast muck diving and seeing all the "little" stuff up close.
Thank you for all your effort s, Captain Jerry and crew! (BTW, Jenny, Great burger! Next time, though, loose the Guack, please!) ;^)
Oh! Captín! Warm up a few spots for us on the 28th. (I wanted to go again on the 21st, but I have a prior professional commitment.)