Posted by on June 06, 2008 at 10:43:54:

In Reply to: Five scuba divers are missing. posted by John C on June 06, 2008 at 10:15:37: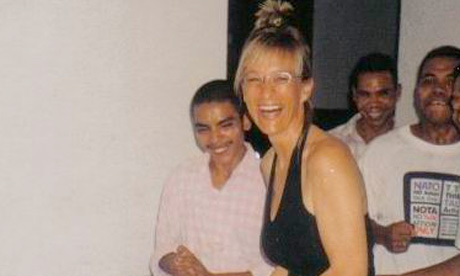 Kathleen Mitchinson, one of five divers missing after a dive in Indonesia.
Three British divers were feared dead today after going missing off the coast of Bali.
Kathleen Mitchinson, Charlotte Allin and James Manning were named by the Foreign Office as still unaccounted for 24 hours after they disappeared in waters off the Komodo national park.
A Swedish woman and a Frenchman are also understood to have been part of the group that failed to reappear yesterday.
Mitchinson's husband, Ernest Lewandowski, told the AFP news agency that the search for the divers was being hampered by a lack of fuel for aircraft.
"We've got a big search operation happening here, but we're having trouble getting aircraft to fly because of fuel problems," Lewandowski said. "Time is critical. It's absolutely blistering hot out there."
Lewandowski said he and his wife, who own a diving shop on the nearby island of Flores, had been leading two groups of tourists on the dive.
He only noticed that his wife's group was missing when his surfaced an hour after entering the water.
A total of 11 divers are believed to have gone on the organised dive. One report said that six, wearing snorkelling equipment, had returned.
"There were three boats out today searching," Lewandowski added. "I was on a speedboat going around all the beaches ... to see if they had washed up."
An operation to search for the divers was called off at about 3am yesterday, resuming at dawn.
The waters off the park are attractive to divers, but the area has strong and unpredictable currents.
"A rescue team from the Indonesian police and navy conducted a search this morning for the five missing foreigners,but there has been no result so far," the district police chief, Butje Hello, said.
The Komodo national park is a popular diving destination, well known for spectacular coral and fish life.
A spokeswoman said the Foreign Office was "providing the appropriate consular assistance, including liaison with the local authorities in the search".