Posted by Max Bottomtime on July 12, 2008 at 17:35:01:

Merry and I went to Vet's after I got off work today to finish off a couple of tanks we used last week. We weren't expecting too much, but I dropped right next to a polychaete I'd never seen. Unfortunately, my lens was fogged after passing through the thermocline at thirty feet. It went from the upper 60s to 51F very fast. I kept shooting despite the fog. I stayed with the little worm for nine minutes before moving a few feet, where I found three Cumanotus sp. nudis laying eggs. Merry found another one about ten feet away. I had only found one of them in La Jolla Shores and suddenly there was a convention at Vet's.
I also spotted a Triopha maculata, Flabellina trilineata and several Sarcastic fringeheads, including one out in the open. As we made our way up the canyon slope it began to get dark. I figured we reached the poor vis in the shallows, however Merry pointed up at a baitball of sardines blocking the Sunlight. We hung out with them for awhile, then a school of Jack mackerel followed us all the way from the canyon to ten feet. Just as we got into four feet I spotted a tiny dark brown fish with a large pectoral fin. I think it was a newborn Giant sea bass, about 3/16" long.
We walked out of the water to six inch surf and I turned to Merry and asked,"Who says there's nothing to see here in the daytime?"
Visibility in the canyon was at least 25 feet, and it was better than ten feet all the way into the beach.


Unknown polychaete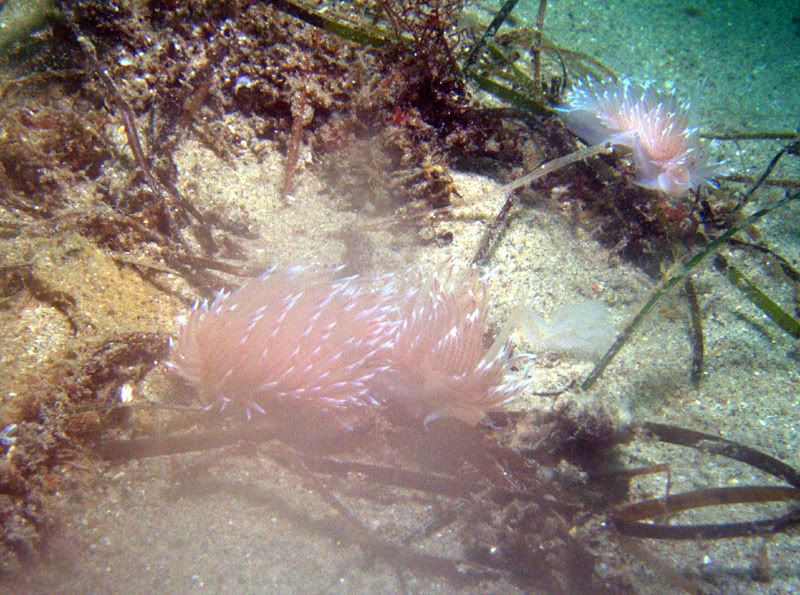 Cumanotus sp. convention

Our work here is done.