Posted by Max Bottomtime on November 14, 2010 at 18:08:56:

Dr. John Bibb joined Merry and me for three dives along the west side of Palos Verdes today. The sea had flattened since yesterday and it felt more like July than November. We made two dives at Hawthorne Reef followed by a quick jump on the Haggerty's crane.
Hawthorne Reef is an area of jumbled boulders, cracks and caves about a half mile offshore from the southern terminus of Hawthorne Blvd. Rockfish stare you down as you try to shoot nudibranchs. At one point I looked up to see more than a dozen vermillion rockfish hovering near my head.
Merry found a nudibranch that we couldn't identify until we got home.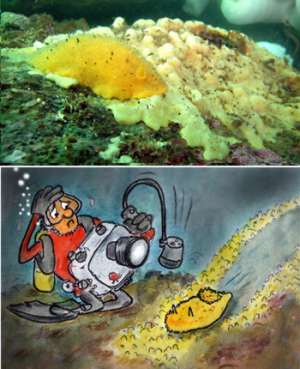 It turned out to be light color variation of an Archidoris montereyensis.

I thought it was one of the Ategema albas I found during the first dive.

When we surfaced, a sea gull was sitting on the water about ten feet away. I called it over, and to my surprise, it actually came within a few inches of me. It hung out with us for several minutes. Catalina Guerra threw it a cracker but it wasn't hungry. It just needed a friend.

The rest of the critters from Hawthorne Reef;

We stopped at the crane off Haggerty's for a quick look. Visibility was poor, but at least it was cold! I was happy to make it a short dive.