Posted by Max Bottomtime on December 03, 2011 at 19:26:03:

We left the house this morning to find the winds had calmed. I decided to get gas in the boat today instead of tomorrow. The west side of Palos Verdes was flat, but as we neared Rocky Point the swells and whitecaps began to beat us senseless. We didn't have enough gas to turn around and try again later, so I pushed through. It took two hours to get to Los Angeles Harbor, but we did get to see a Mola Mola and a pod of Risso's dolphin close to us.


Angel's Gate Light getting a much need paint job
After spending a week's pay at the fuel dock we braced for impact as we rounded Angel's Gate. Fortunately, we had following seas and the wind had died down. I motored close to shore to check out the dive sites. Marineland was muddy, so I hoped for better conditions on the other side of Pt. Vicente. Neptune Cove resembled Catalina. We could see twenty feet down the kelp and there were schools of blacksmith hovering just below the surface.
I told Merry I wanted to find a Dendrodoris behrensi. I have only found one before and it was here. As soon as I entered the arch I spotted one. I took several shots, then noticed a few drops of water in my housing. I told Merry I was going up to fix it and looked up to see the boat from fifty feet deep.
The visibility was at least twenty-five feet, the best I have seen at Neptune Cove. I cleaned my camera and swapped lenses, then dropped back down for some wide angle. By this time the visibility had dropped and the Sun was setting soon, so I fired off a few shots and left for home.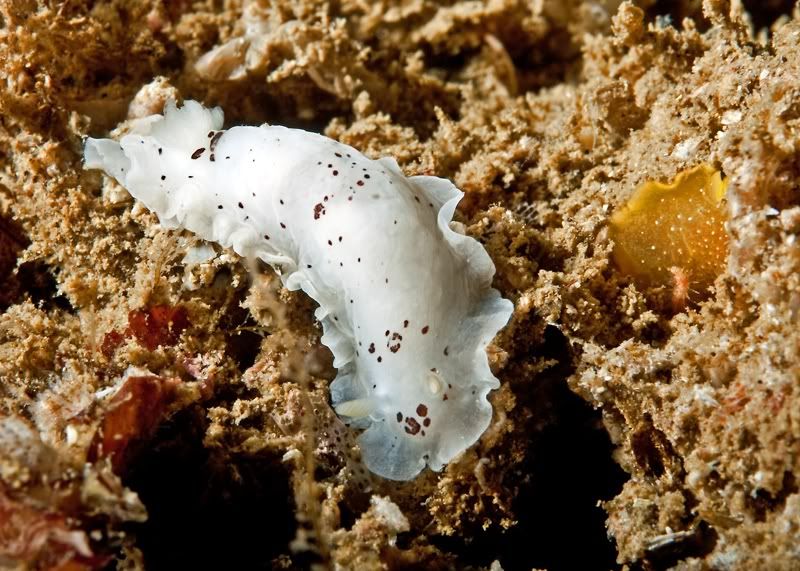 Dendrodoris behrensi

Mexichromis porterae

Flabellina iodinea

Rock scallop wide open

Entrance to the Underwater Arch

Top of the arch

No Pressure