Posted by Max Bottomtime on February 20, 2012 at 14:12:23:

We entered at high tide this morning and were greeted with slightly better visibility than yesterday. We could see close to four feet today. It was also a bit brighter under the North T-Pier, perhaps due to the high tide and getting in an hour later. The sky has been clear the entire trip.
We explored the north section of the pier today. Merry found two Catriona columbianas about the size of a pinhead. She pointed out the larger of the two, but I couldn't see it. Kevin and Merry were using bright focus lights. I left mine at home, so I was having trouble getting anything on the pilings. I headed for the bottom and slowly made my way toward the exit spot. Along the way I found enough to keep me busy.
A monofilament net was wrapped around a few pilings. I didn't have a collection bag, and with the current I didn't think it was wise to try to remove it. I'll get it next time.
I found more nudibranchs today than yesterday, including my first Janolus fuscus. I took several shots, then noticed when we got back to the hotel that it was laying eggs.
After 96 minutes in the 47° water I was ready to warm my toes. As I ascended a Dendronotus frondosus floated past me in the current. I cupped my hand behind it and placed it on a rock, which it quickly grabbed a hold of.
There were a few other divers under the pier today. They made two dives in wetsuits while we were under. They must have really enjoyed their dive to get back in for a second dive.


Dendronotus frondosus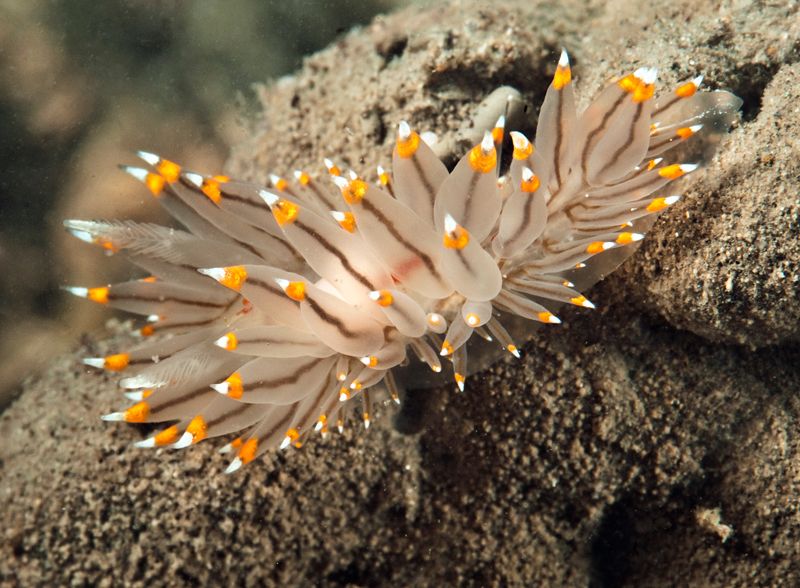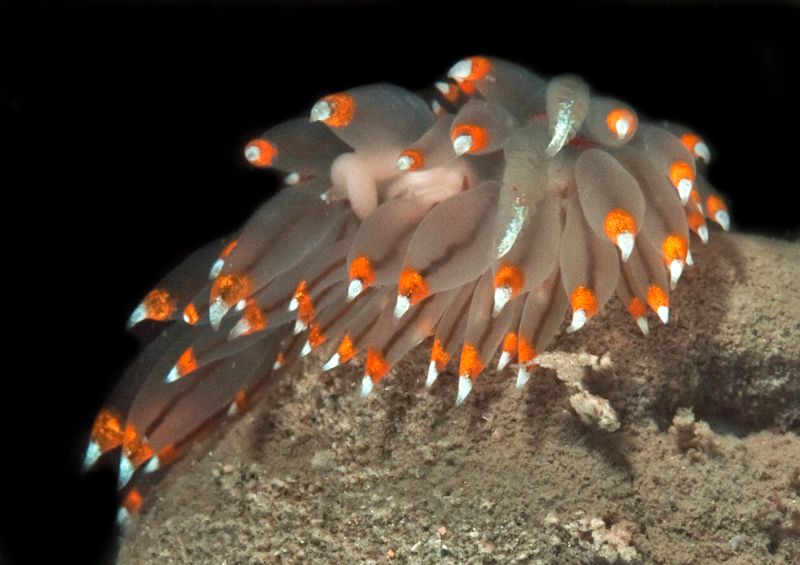 Janolus frondosus