Posted by Max Bottomtime on February 23, 2012 at 21:18:55:

Margaret Webb joined us for a couple dives in Palos Verdes this morning. We expected poor conditions, but it was worse than we thought. Whitecaps, large swells and milky water were all we saw. I considered turning around until MaggieD suggested Catalina. Walter Marti posted a new video yesterday showing squid eggs covering the bottom from 65 to 105 feet at Goat Harbor. We decided to check it out. We anchored in the middle of the cove and headed downhill.
As soon as we got wet we were surrounded by dead and dying salps. I tried to pretend it was a blue water dive and get great shots, but the water was full of suspended sand. Merry had much better luck.
Margaret pointed to a sleeping Angel shark, the first of five I saw during the dive. At 65 feet I saw a few single squid eggs scattered about. I went as far as 130 feet but never found more. We have bad luck every time we hear about squid runs. Today was no exception.
I headed up the slope, finding a few nudibranchs and more dead salps along the way. At thirty feet I saw a few female sheephead heading toward the reef. I was bored, so I followed them. Suddenly I spotted a mantis shrimp sitting out in the open. This was my first time seeing this, so I made a slow approach and got as many shots as I could. The mantis didn't seem to like the intrusion and kept his back to me. I put some spin moves on him, faking right them moving left, but keeping my camera on the right. After awhile he gave in and let me get some head shots. A couple of times he leaped forward, but I was able to pull the camera away before he could scratch my lens.
An inflatable pulled up as we returned to the boat. It was two DFG wardens checking up on us. I recognized one as Officer "Splash" Potter, Elaine Jobin's old friend. He asked about how she was doing.
We only had time for one dive, so we raced back to Redondo Beach. The wind had died, but the swells had grown. I think we'll make a dock dive tomorrow instead.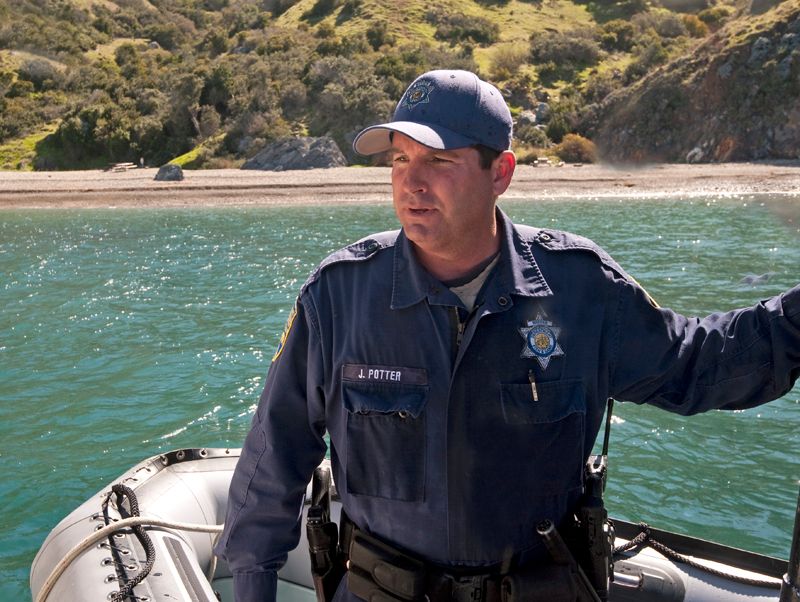 Splash