Posted by Max Bottomtime on March 04, 2012 at 17:32:06:

With warm temperatures and predictions of one foot swells, I was looking forward to this weekend all week. I planned to dive a few spots that I haven't visited for a few years.
We headed to the Caissons off Pt. Fermin on Saturday morning. Visibility was a murky ten feet on the tower, but there were several species of salps and jellies in the water column. I snapped away, hoping to get some great shots.
After fueling up in L.A. Harbor where gas is a dollar cheaper than the fuel dock in Redondo Beach we headed for the Garden Spot, a bus-sized reef between Marineland and Abalone Cove. I changed lenses to shoot macro on this dive. Visibility was only three feet, and I was unable to get my camera to focus. I had to find a tiny subject and move the camera back and forth until it was close enough to focus. I realized after surfacing that I had accidently flipped a switch on my camera to manual focus. Without focus gear on my lenses I was stuck. None of my shots from the Caissons came out and only one from the Garden Spot was in focus.

Pink corynactis
Merry got one shot on the Caissons, but the poor visibility gave her nothing but backscatter in her other shots.

We decided to try again this morning. My first dive would be on the wreck of the Jenny Lynne off Marineland. Visibility was less than six inches! I turned around the moment I reached the silty bottom. When I reached the surface there were two Mola Molas near our dive ladder. I got a couple shots in the dirty surface water.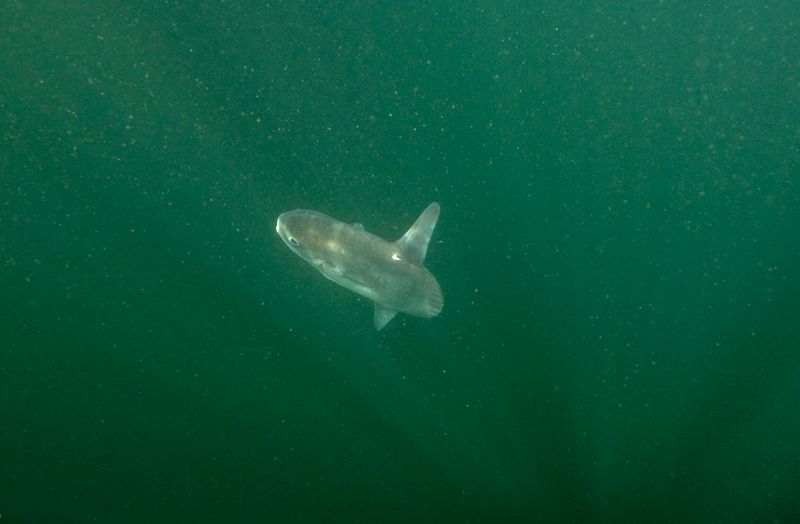 I was ready to go home, but we stopped to ask about conditions on Hawthorne Reef from Walter Marti, Peter Gallup and Linda Blanchard aboard the Mary Q. They reported great conditions and a Mola cleaning station above the reef. We geared up faster that we ever had before.
The visibility was probably the best I have seen here. It was amazing, considering I had a few inches of vis a mile away. I didn't see any Molas here, but Merry spotted three. She also found a new nudibranch, Conualevia alba. I saw her photographing it and was amazed that she could even see it. It's the tiny white dot in the middle of this rock.

I didn't have as exciting dive as Merry did, but I was thrilled to actually see more than a few feet.