Posted by Max Bottomtime on August 13, 2012 at 18:47:57:

After reports of Rainbow nudibranchs, Dendronotus iris next to the Redondo Beach Barge I couldn't wait to get back into our cold, dirty water. We swam around the barge, spotting only a few tube anemones with eggs wrapped around them before finally finding a single large nudi. Fortunately, this guy was active. I fired off a few shots before giving way to Merry.

I checked one of the rocks for octopus nests and found a couple of them. One looks like it's just about hatching time.
With no other Dendronotus in sight, I scoured the barge for the usual suspects. Shrimp, Hermissenda crassicornis and Tritonia festiva were everywhere, many with eggs. Mating season seems to last all year on the barge.

As I made my way back to the anchor I stopped to take a photo of the barnacles in a large patch of brown cup corals. Out of the corner of my eye, I spotted the unmistakeable sight of Doto eggs. The only speciman I have found was a tiny Doto kya also on the barge. I looked as closely as I could and didn't see one near the eggs. On a previous dive with Kevin Lee on the Radio Tower he shot some eggs, only to find nudibranch bycatch when he downloaded his camera. I fired off a few shots, then ascended to the sweltering surface.
After a week in Cozumel, our poor boat had grown an algae garden along the waterline. I grabbed a scraper and brush and went to work. By the time I got on the boat, I was drenched in sweat. I took a lunch break and checked out my images from the dive. I zoomed in and found a Doto in the badly focused shots I took. Even with a 90mm lens it was difficult to focus on the tiny dot on the hydroids. I put my wet gear back on and dropped for a second chance to get a decent shot.
After ten minutes of firing away, I realized that the nudi required a microscope to get something in focus. I swam back over to the west side of the barge where I spotted a second Dendronotus iris. I watched as it munched away at a small tube anemone, then made my way back up through the salp soup.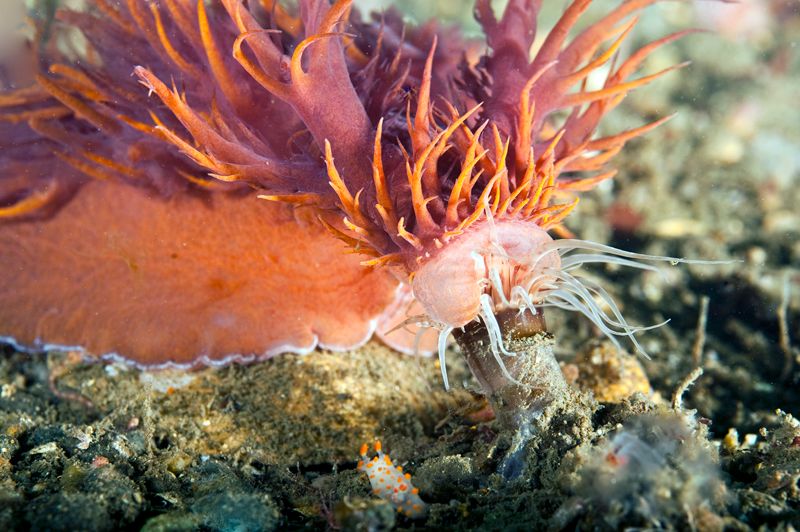 For size comparison, check oput the tiny Triopha catalinae just below the big boy.