Posted by Patrick on November 19, 2012 at 11:32:41:

In Reply to: Re: Cold, wet day? Perfect day to dive! posted by Andy on November 18, 2012 at 19:40:54:

To fill in a bit on Andy's summary; there was a fair amount of debate as to whether we should chance a trip with the weather and swell forecast so threatening. The decision to go was based on previous experiences when we launched with sketchy forecasts and had great diving and our usual motto, "If you don't go, you don't know". Despite some light rain at the beginning nearly all was very good. No one at the launch ramp so launch and parking were a piece of cake. A bit of traffic on the way out dodging Loyola and UCLA multi-person racing sculls training in the harbor and in the channel was no big deal. Once clear of the harbor, dark skies, but glassy seas with just a light wind from the east.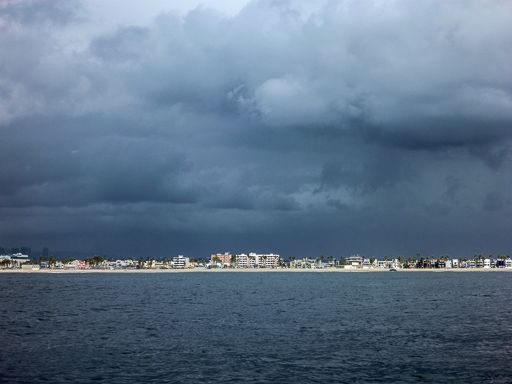 Threatening skies over Santa Monica
Jumps on some of the local rock piles produced a few bugs and nice vis. 15-20 feet. Cindy held off the first jumps since she wanted to take pictures. Since we were toward the north end of the bay and the vis was good, we decided to drop on the Star of Scotland for a photo dive and to see how the GBS population was doing. Water was beautiful - 30+ feet vis – until we hit about 40-feet on the descent. The water turned gray-green and visibility dropped to an ugly five or six feet. We killed some pixels, saw a couple of small GBS and Cindy, trading her artistic photographer persona for the hunter persona, snagged a bug just before we called the dive. Scratching the photography for the rest of the day we went back to searching lobster spots.

Baby GBS at home on the Star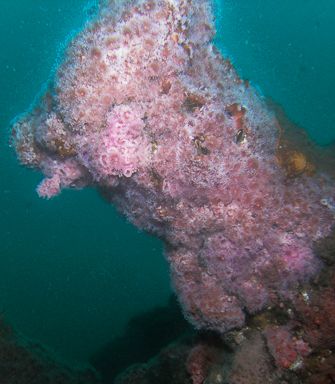 Corynactis-covered bit on the Star

Fresh damage on the Star's hull
I was a bit concerned over this change, since she learned lobster hunting secrets from the crew of the Moby Kate a couple of years ago, skills painfully gathered over years hunting, she had become quite adept at embarrassing her teachers. She was told, "It is not wise to embarrass your elders, Grasshopper. Do so and you may find it a long swim back". Whether it was the words of caution or just the luck of the day, but Andy and I managed to garner a few more bugs than she did and salving our always fragile male egos.
Grasshopper lets me hold her bag…
On our return to the ramp we were greeted by our friendly local F&G warden who checked our catch and paperwork and sent us on our way with wishes for a great Thanksgiving. Things got better. After a delicious late lunch of carnitas tacos, it began raining on the way home – Woo Hoo! Automatic boat cleaning!

Capt. Cindy & Capt. Patrick with a rainy day's catch
Another great day on Santa Monica Bay.
Stay wet! (in ocean water, not the rain…)
Patrick