Posted by Patrick on January 02, 2013 at 20:52:21:

The stalwart crew of the Moby Kate (not to be put off by their last dismal foray offshore) began the New Year with a slightly later departure than usual from the MdR launch ramp. There were a number of boats carrying fishermen and divers who were choosing to greet the New Year at (or under) sea instead of sofa surfing and watching flowered floats on TV. It boded to be a good day – visibility at the launch ramp was 15-feet!

Great vis at the launch ramp
Bill Brush, and the three captains – Andy, Cindy and moi – set off under slightly cloudy skies but without wind or rain. Halfway down the main channel we crossed paths with a group of outrigger paddlers to whom we offered our wake which they joyfully accepted.
Two of the paddlers rode our wake all the way to the north entrance before they pulled out, giving us a wave and a "Happy New Year" as they peeled off.

They say the definition of insanity is doing the same thing and expecting different results. I guess that applies to most things, but I would argue it is not the case in diving. Or maybe it is.
After the terrible conditions we found just a couple of days ago at the Topanga rock piles, you'd think that we would choose somewhere else, anywhere else. But like the definition of insanity (or maybe divers in general) we went back, just to look.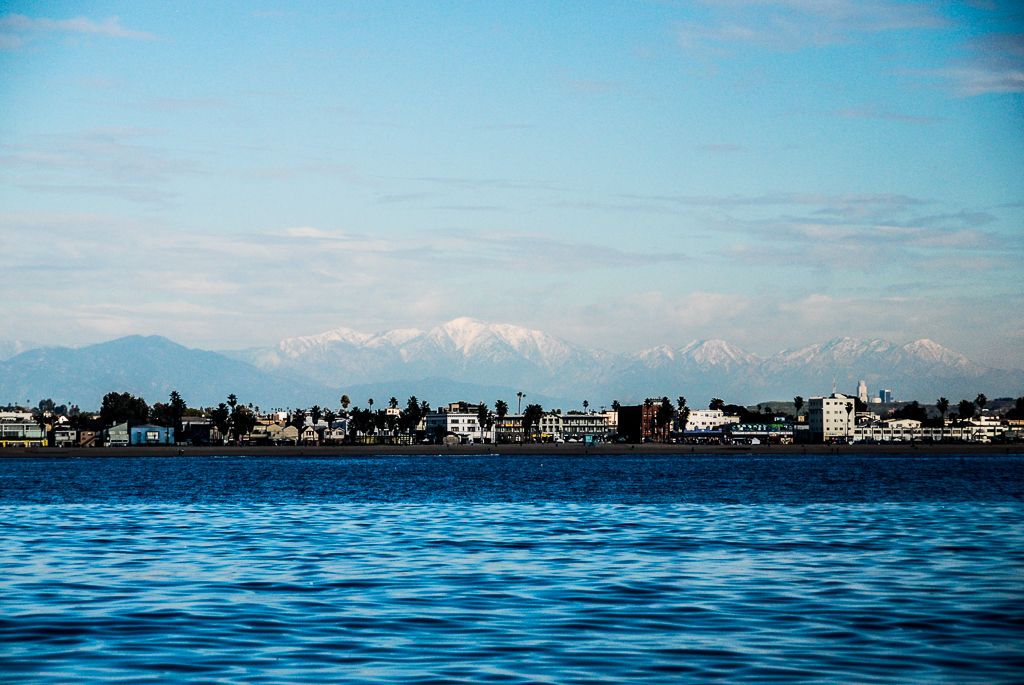 It WAS a beautiful day
Bill was picked to dive first; to scout out the conditions and report back. This was a singular honor that he was not pleased to receive since he had heard in great, whining detail the folly and awful conditions of our last trip. (see http://diver.net/bbs/posts003/86995.shtml)
While mumbling into his regulator (which I'm sure was his stating how happy he was to be doing the first dive of 2013 off the Moby Kate) he rolled over the side and descended into the clear, blue surface water. We expected to see him back within a few minutes, but when a few minutes turned into five minutes then ten, then twenty-five we began to think a) the conditions on the bottom were ok, or b) he was sandbagging us, sitting down there burning air just to get us to jump into the cold murk we endured previously. In the impromptu betting pool we put together, the "b" option was ahead, but it turned out we were wrong.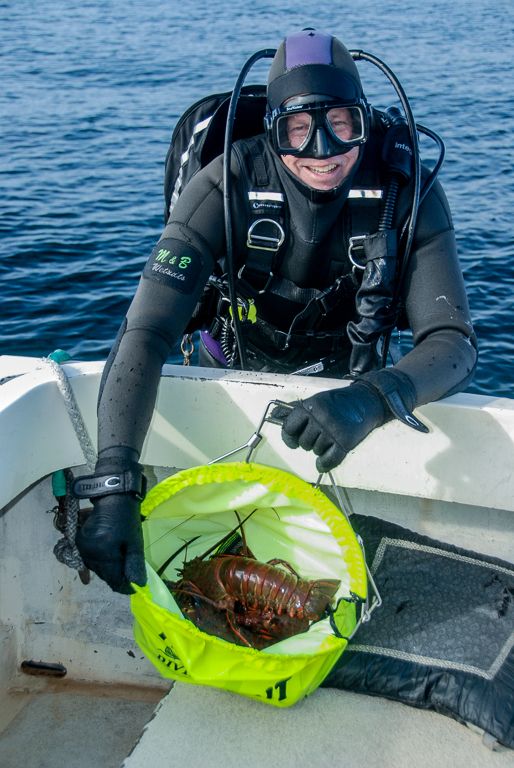 The conditions on the bottom quite good, Bill reported and the lobster were out walking around too.
The rest of us geared up and dived finding vis in the 20-foot range with nippy 52° to 55° temperatures over the course of the next three dives. Cindy, sort of a nautical M&M, that is photographer on the outside and hunter on the inside, mainly too pictures, but also caught a few bugs to replace those depleted by the recent holiday events.
A couple of the locals
Invited home for dinner.
Sirena makes her 2013 debut
Pleurobranchaea californica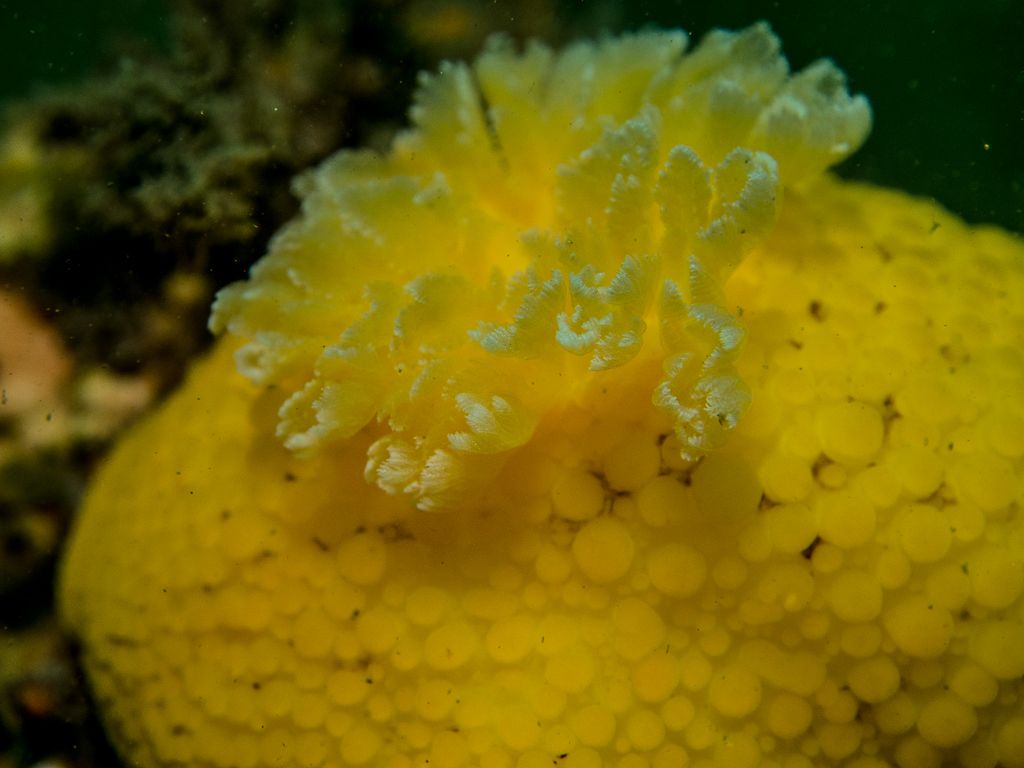 I think these are the gills on a Monterey Dorid
Polyps on Red Whip Gorgonia
By the end of our third dive, we called it quits. The day had turned quite beautiful with warm sun, no wind and clear blue skies. Once back in street clothes, the crew toasted the New Year and headed in.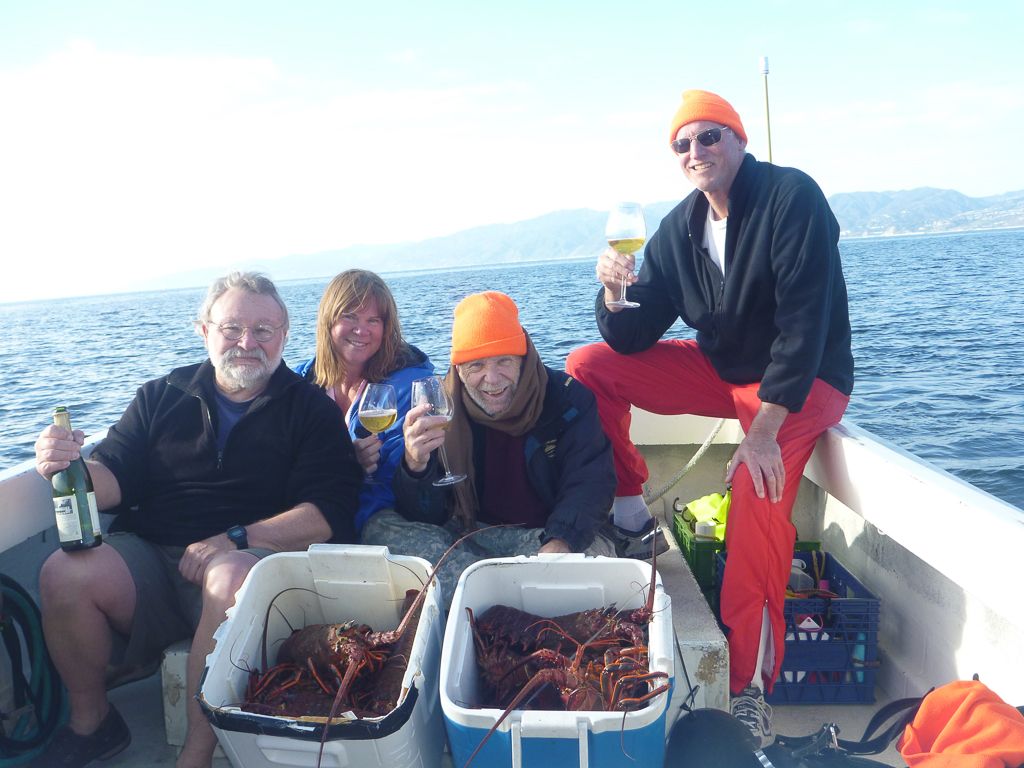 We were blessed with a great day and good buddies so what could be better? Well on the drive home, while stopped at the corner of 14th Street and Santa Monica Boulevard, we found out. Cindy asked, "Is that girl wearing a bikini?" indicating a young lady standing at the bus stop. Bill, Andy and I turned, looked, did a double take and together blurted, "She's not wearing ANYTHING!" I've lived in LA all my life and seen some pretty weird stuff, but a pretty, stark naked young woman waiting at the bus stop of a major thoroughfare will rate up there. If it is a new New Year's fad, I believe I may like it. From just that one small exposure I'm sure it would draw a better audience than the Rose Parade, and if there were just one or two on every other corner on the major streets, it would help keep congestion down in Pasadena. Or not.
There were a lot of horns honking by this time; whether they were complementing the show or because we were blocking their view, I mean traffic I'm not sure, but we continued home thinking it a great New Year's Day.
The crew of the Moby Kate wishes a great year to all the members of the Diver.net BBS.
Stay wet.
Patrick