Posted by Patrick on July 08, 2013 at 15:26:12:


As every diver who has immersed themselves offshore or along shore lately knows, the conditions for Southern California diving have been a bit less than stellar. For the most part whether you're diving Catalina or the coast you have found (pick all that apply) 1. Swell, 2. Surf, 3. Dirty water, 4. Cold water, 5. Dark, overcast skies, 6. Wind and 7. The local donut shop just sold the last ham & cheese croissant. Granted there have been some areas that report good visibility (San Clemente Island and Big Sur) and sometimes even a bit of warm water along with it. But here it is (almost) the middle of July, and we have colder water temps - 48° to 55° than they have in Dutch Harbor (14 C. = 57.2 F.) All that said, the truth is, diving in a mud puddle at midnight is way better than not diving.
Despite the poor conditions Cindy and I experienced on the south coast on Saturday (51° water, 4 to 5 foot vis and 5 to 6 foot surge), we loaded aboard Encore with Captain Elliott and headed to Redondo to see if we could find some of the clear water that was reported lurking beneath 30 to 40 feet of sea schmutz. Anchoring just off the Redondo barge for the first dive found glassy sea surface with dark overcast skies and surface water the color of anemic pea soup with a temperature of 66°. Vis on the descent was maybe 5 feet, but at 38 feet we found a thermocline that dropped the temperature fifteen degrees to 51° and opened visibility to 30+ feet. Between the temperature change and the great visibility it was an exhilarating moment.
On the barge, aside from clusters of Chromis, the fish population was almost non-existent; a few ling cod and one Cabazon were seen shivering on the bottom along with a couple of octopus. The stars of the barge were the crabs – Moss crabs (L. crispatus), Red rock Crabs (C. productus), Yellow crabs (C. anthonyi) and I believe C. gracilis were all there and in the mood for love. It was a crustacean love fest that provided most of the material for the images we shot.


The Chromis club

Camo Cabazon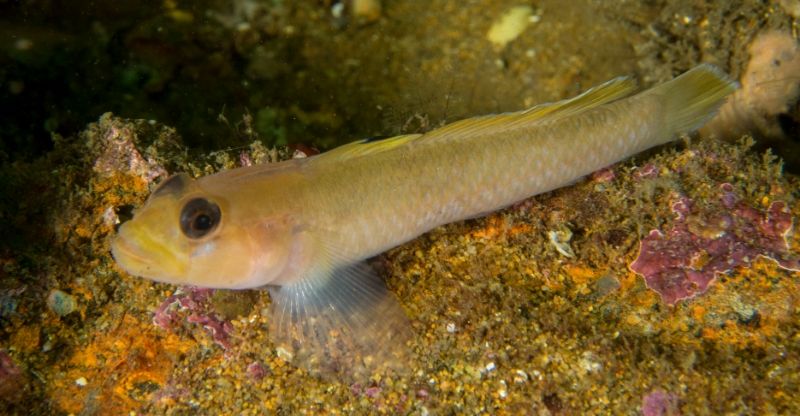 Goby chillin' on the barge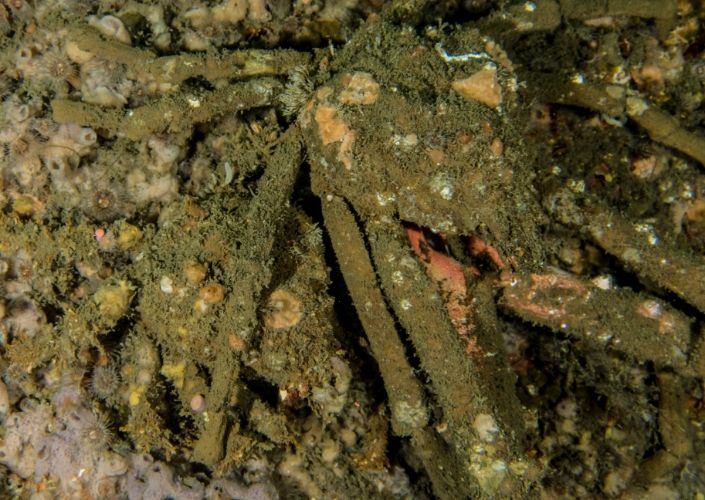 Cuddling Moss crabs

Crab amore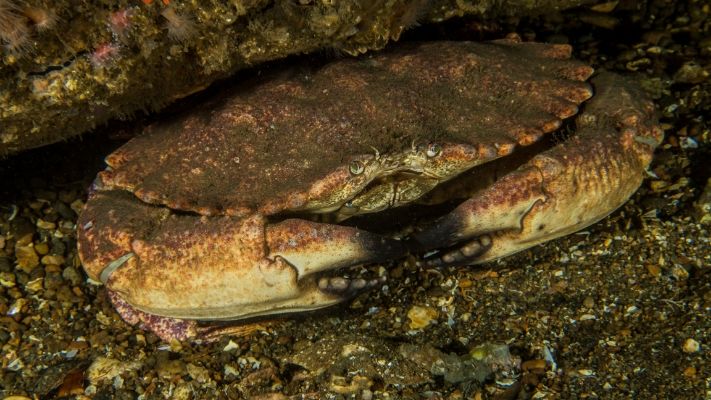 I need a girl friend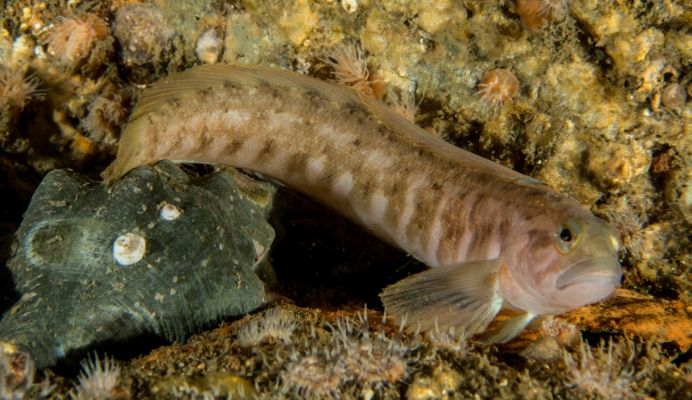 Ronquill shivering on the barge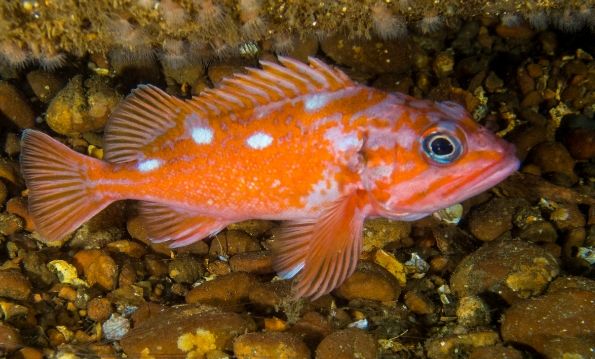 Rosy Rockfish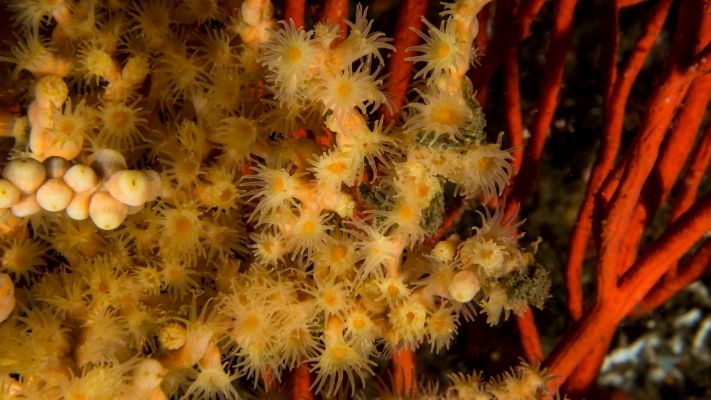 Red gorgonian and zoanthids
Because of the great visibility we opted to do a second dive on the barge. Conditions and suspects were similar to the first jump but for three things. On this dive we were serenaded with sea lion barks, second, the temperature on the bottom had dropped to 49° and third, this was Cindy's 500th dive – an amazing accomplishment for someone certified just five years ago. It comes out to something like a dive every three and-one-half days which isn't too bad for someone gainfully employed.
A circumnavigation of the barge revealed that male crabs of all species had staying power and that the top of the barge held a good population of quarter to silver dollar-sized octopus some of whom would actually allow their photos to be taken. On the ascent, we traded visibility for warmth and the safety stop in the 66° water felt like a spa.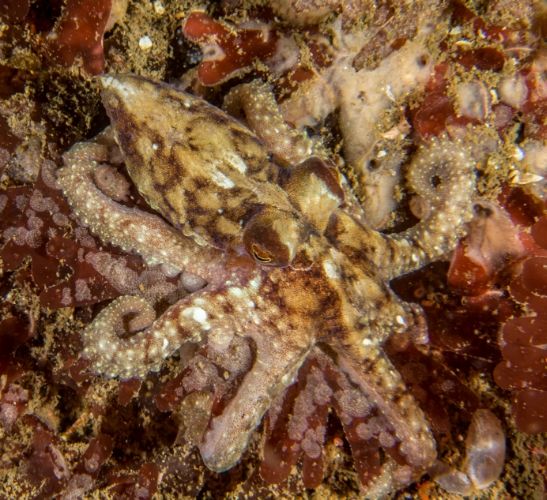 A quarter-sized octopus poses – for a second.

Safety stop in lime Jello

500th Dive!
Since it was still early, we decided to take a look at a shallower site and moved over to the Landing Craft. Conditions were slightly diminished from the barge, but visibility on the bottom was a good 20 to 25 feet and two degrees warmer than the last dive. WooHoo! Better than that was the number of occupants on the site.

Goby with parasitic isopod in the gill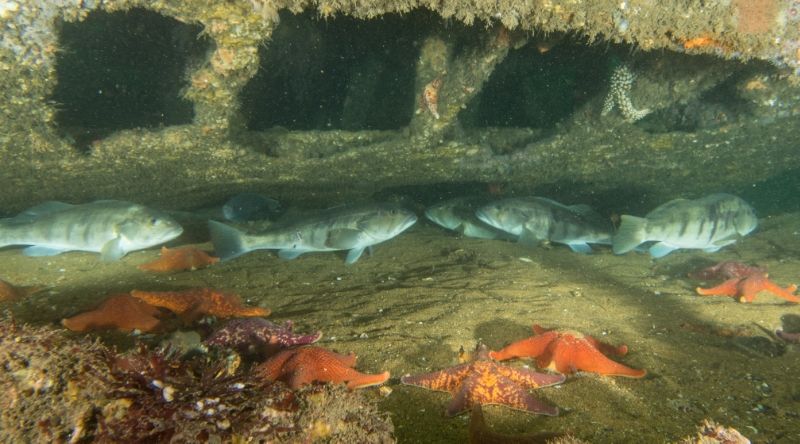 Stars and Bars

Papa Garibaldi guarding the nest
Of course the usual herds of Chromis, but numerous Cabazon, Sargo, Rubberlip and Barred Sand Bass along with nearly a dozen Garibaldi nests and their associated guardians. While I was on the bow killing pixels, Cindy was documenting the stern of the craft and communing with one of the local Black Sea Bass. Apparently a bit camera shy, he/she scooted away before being digitally recorded.
All in all, it was a great day of diving. Our slightly flagging excitement over local dives was restored. Oh, and as soon as we shed our gear, the sun came out making for a beautiful ride back to port.
NOTE: In the interest of full exposure, it should be known that I am not a crab expert, nor do I play one on TV. I do the best I can when IDing species and certainly would never dream of interrupting any mating (crab) couples for closer identification.
Stay wet!