Posted by Chamber Day 2020 on March 11, 2020 at 13:30:23: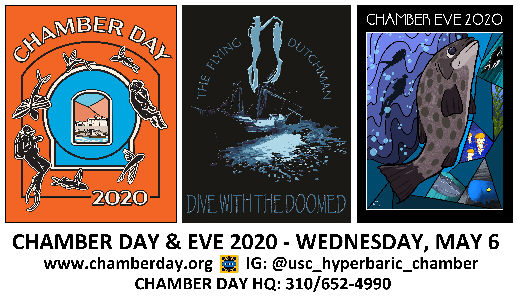 In 1989, Chamber Day was created as a way of providing more secure funding for our Chamber. And since that time, we've come back to you annually to ask you to support your Chamber. We hope you'll never need it, but if you do, you'll be glad it's there.
A key component of our fund-raising efforts, especially the past few years, has been the Chamber Challenge. We "challenge" you to give a straight donation to our Chamber, and we hope you will then turn around and challenge your friends and dive buddies to match your generosity. And I am amazed and delighted to announce that we're already beyond $2,000!!!
We begin with a long-time stalwart supporter of our Chamber (and someone who always likes to be first out of the gate leading the charge to support our Chamber), Pacific Wilderness, at the $1,000 level. Pacific Wilderness realizes that, as a dive shop, our Chamber might be needed some day to help out one of their customers and they want to make sure we're available to do that.
We also have also a Silver-level donor ($500) in the persona of Chamber Director Karl Huggins. Karl's donation - in memory of his mentor, Lee Somers - is a good reminder that you can do a donation in someone's memory or honor. We'll list their name as well as yours. (Along those lines, you'll also note three donations in memory of Bonnie Cardone, as well as one in memory of Pat O'Brien.)
So we're off to a good start but we've got a long ways to go. We're gearing up for March Madness, so about how about a little Chamber Challenge madness to match? Who's next? Who will help push us over $3,000?
CHAMBER CHALLENGE 2020 - $2,430 total (Updated 3/11/2020 @ 1PM - first update)
New donors are in bold type and marked with an asterisk.
Gold ($1,000-4,999)
* Pacific Wilderness
Silver ($500-999)
* In memory of Lee Somers (Karl Huggins)
Bronze ($100-499)
* Henry Gittler & Lisette Lieberman
* Laurie Kasper
* Sharon DePriester
* Roger Carlson
* In memory of Bonnie Cardone (Vance Meyer)
* Margaret Donat
* In memory of Bonnie Cardone (Erin Quigley)
Other (less than $100)
* In loving memory of Pat O'Brien (Carrie McConnell)
* Terry Schuller
* In memory of Bonnie Cardone (Gerg & Nene Wine)
————————————————
Ken Kurtis - Chairman
Chamber Day/Eve 2020
P.O. Box 634
Beverly Hills, CA 90213
(310)652-4990