Posted by Chamber Day 2020 on April 07, 2020 at 10:58:03: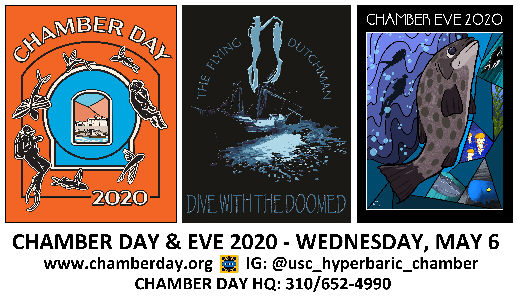 We go from marvelous Monday to Terrific Tuesday as we soar past $35,000!!!
And that's all because a trio of very good Chamber supporters – Mike Emmerman, his wife Pat Stockhausen, and their son TJ – once again have agreed to donate $5,000 to the Chamber Challenge. Mike's line of work is disaster preparedness so, not only is he quite busy these days (and we appreciate that he was able to take time to respond t our plea), but he certainly understands how vital a facility like the Catalina Hyperbaric Chamber is going to be when things go wrong. And while we may not need our Chamber often, when we do, it stands at the ready.
And that's because people like Mike/Pat/TJ and all the others you see listed below are willing to dig into their pockets and kick in whatever they can afford to help keep our Chamber going. How about YOU? Our next waypoint is $40,000 and we'd love to have you help us get there.
Here's the direct link to sign-up and get involved: https://dornsife.usc.edu/chamberday/signup-link/
CHAMBER CHALLENGE 2020 - $35,405 total
(Updated 4/7/2020 @ 11AM - last update 4/6)
New donors are marked with an asterisk.
Platinum ($5,000-9,999)
* Mike Emmerman, Pat Stockhausen, & TJ
Beach Cities Scuba
Cyd Yonker
E&J Gallo match (Yonker)
In memory of Dr. Jeff Sipsey (anonymous)
Gold ($1,000-4,999)
John Delaney
Pacific Wilderness
Silver ($500-999)
John Lumb
In memory of Tom Wetzel (Patti Wetzel)
Stuart Berryhill
In memory of the Conception 34 (Susy Horowitz)
Scott Barnes
Don Lake
In memory of Lee Somers (Karl Huggins)
Bronze ($100-499)
Mark Stabb
Quartus Engineering match (Stabb)
Roy Houston
In memory of the Conception divers & crew (Martha Edge)
Wallace Wood
Debbie Karimoto
Dark-Thirty Divers
In memory of Pat O'Brien (Susy Horowitz)
In memory of Bonnie Cardone (Susy Horowitz)
Tabby Stone & Linda Takvorian
SG Valley Scuba Club / Sharky's Dive Team
Jarrett Lee
David Osorio
Gerald Motter
In memory of Conception divers & crew (Thomas Penn)
Karen McKim
Dana Rodda
In memory of Bonnie Cardone (Jeanne Sleeper)
In memory of Bonnie Cardone (Martha Somers)
Barnacle Busters LGBTQ Dive Club
James Ruddick
In memory of Patty Meistrell (Fiona Macfarlane)
Henry Gittler & Lisette Lieberman
Laurie Kasper
Sharon DePriester
Roger Carlson
In memory of Bonnie Cardone (Vance Meyer)
Margaret Donat
In memory of Bonnie Cardone (Erin Quigley)
Other (less than $100)
Karen Bunning
Yuriy Kotlyar
Roz Wolpert
Khrystyna Cusimano
Christopher Madsen
Timothy McDade
Oscar Corvera
Brian Aalberts
Rob Kadota
Tina Branca
Rebecca Rogers
Jerry Nickelsburg
Alexander Aligo
Ted Lavino
Debbie Rubin
In loving memory of Pat O'Brien (Carrie McConnell)
Terry Schuller
In memory of Bonnie Cardone (Greg & Nene Wine)
————————————————
Ken Kurtis - Chairman
Chamber Day/Eve 2020
P.O. Box 634
Beverly Hills, CA 90213
(310)652-4990