Posted by Chamber Day 2020 on April 09, 2020 at 10:48:00: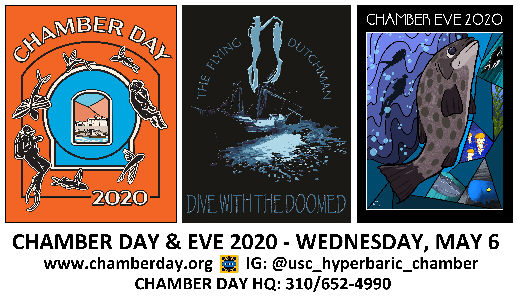 We made it past $40,000!!! And that was achieved with donations at almost every level.
We start off with a trio of Gold level $1,000 donations. The first comes from stalwart supporters who are members of the South Orange County Dive Club (SOCDC) who each year have donated this amount. (As a sidenote, their club "meeting" was last night via Zoom. I was the guest speaker, there were 64 people "attending" and it was a great way to get together during this COVID-19 time). SOCDC is joined by a $1,000 grant from the Divers Alert Network, who obviously understand the need for our Chamber. And our third donor at this level is the Jeremy & Marlo Wolf Family Fund, another longtime supporter of our Chamber as well as they will be "attending" our virtual Chamber Evening.
On the Silver level, Allison Vitsky has accepted the challenge from fellow veterinary doc Susy Horowitz and made her donation in memory of the divers who perished in the Conception fire. Allison's donation is actually doubled because the company she works for, Pfizer, has a matching grant program, again underscoring that if your company has a similar arrangement, especially in these tough times, it's a great way to double the value of your commitment to our Chamber. Finally at the Silver level, we again welcome Will Weiss, a relatively new diver but one who understood from the beginning what an important role our Chamber plays and how he can help keep it on steady ground.
We're now four weeks away from Chamber Day 2020 (May 6, in case you forgot). We're doing okay but we've still got a ways to go and time to get there. But we ask you not to dawdle. How high can we go this year on the Challenge? It's really in your hands.
So who's next? Who wants to help our Chamber? The direct link to sign-up and donate is: https://dornsife.usc.edu/chamberday/signup-link/
CHAMBER CHALLENGE 2020 - $40,430 total
(Updated 4/9/2020 @ 10AM - last update 4/7)
New donors are marked with an asterisk.
Platinum ($5,000-9,999)
Mike Emmerman, Pat Stockhausen, & TJ
Beach Cities Scuba
Cyd Yonker
E&J Gallo match (Yonker)
In memory of Dr. Jeff Sipsey (anonymous)
Gold ($1,000-4,999)
* SOCDC (South Orange County Dive Club)
* D.A.N.
* Jeremy & Marlo Wolf Family Fund
John Delaney
Pacific Wilderness
Silver ($500-999)
* In memory of the Conception 34 (Allison Vitsky)
* Pfizer match (Vitsky)
* Will Weiss
John Lumb
In memory of Tom Wetzel (Patti Wetzel)
Stuart Berryhill
In memory of the Conception 34 (Susy Horowitz)
Scott Barnes
Don Lake
In memory of Lee Somers (Karl Huggins)
Bronze ($100-499)
* Laura & Bob Mosqueda
* Diane Witmer
Mark Stabb
Quartus Engineering match (Stabb)
Roy Houston
In memory of the Conception divers & crew (Martha Edge)
Wallace Wood
Debbie Karimoto
Dark-Thirty Divers
In memory of Pat O'Brien (Susy Horowitz)
In memory of Bonnie Cardone (Susy Horowitz)
Tabby Stone & Linda Takvorian
SG Valley Scuba Club / Sharky's Dive Team
Jarrett Lee
David Osorio
Gerald Motter
In memory of Conception divers & crew (Thomas Penn)
Karen McKim
Dana Rodda
In memory of Bonnie Cardone (Jeanne Sleeper)
In memory of Bonnie Cardone (Martha Somers)
Barnacle Busters LGBTQ Dive Club
James Ruddick
In memory of Patty Meistrell (Fiona Macfarlane)
Henry Gittler & Lisette Lieberman
Laurie Kasper
Sharon DePriester
Roger Carlson
In memory of Bonnie Cardone (Vance Meyer)
Margaret Donat
In memory of Bonnie Cardone (Erin Quigley)
Other (less than $100)
* Bill Edman
Karen Bunning
Yuriy Kotlyar
Roz Wolpert
Khrystyna Cusimano
Christopher Madsen
Timothy McDade
Oscar Corvera
Brian Aalberts
Rob Kadota
Tina Branca
Rebecca Rogers
Jerry Nickelsburg
Alexander Aligo
Ted Lavino
Debbie Rubin
In loving memory of Pat O'Brien (Carrie McConnell)
Terry Schuller
In memory of Bonnie Cardone (Greg & Nene Wine)
————————————————
Ken Kurtis - Chairman
Chamber Day/Eve 2020
P.O. Box 634
Beverly Hills, CA 90213
(310)652-4990