Posted by Chamber Day 2020 on May 01, 2020 at 17:03:32: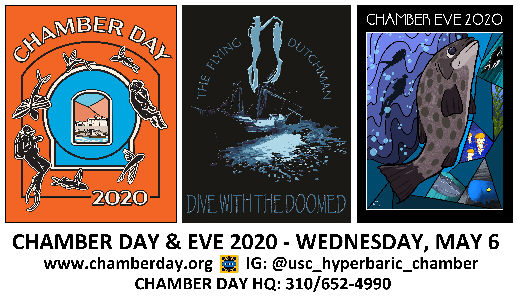 Every year, as we get closer and closer to the event, the pace picks up. This year looks like it will be no different. (And that's a good thing.)
The Challenge is going gangbusters, the Dutchman is doing OK, and the Evening isn't bad but could be better (but it's understandable given the nature of things), but overall we're moving along. The good news is that you've only got to put up with my updates for another five days. The bad news is that when we get inside a week as we are now, you're going to be getting a lot of them.
But in all seriousness, we're now into crunch time. For those of you who like to wait until the last minute, that minute is here. And you don't want to wait too long and miss out.
Specifically, that refers to the raffle. (A reminder will closely follow this update.) If you want extra raffle tickets, the deadline is this Saturday (tomorrow) at 6PM PDT. All raffle ticket requests must go to chamberday@aol.com. Anyone can buy up to 35 tickets ($50). If you're on the Dutchman, your limit is 50 tickets ($75). And if you're doing the Evening, your limit is 75 tickets ($100). So don't let this deadline pass you by.
We are also finalizing plans for our live-stream of the event program Wednesday night. It looks like we'll set it up as a Zoom Webinar that will also simultaneously stream to FaceBook Live. So we should have more details and links for you on Monday.
In the meantime, we keep chugging along and are hoping to hear from you if we haven't already. Get involved with one or more aspects of Chamber Day 2020. The direct link to our sign-up page is: https://dornsife.usc.edu/chamberday/signup-link/.
Here's where we are as of 5PM on 5/1/20:
CHAMBER DAY BOATS (sponsor)
We thank the following boats and sponsors who were ready to donate their time to the cause:
Asante (SSA), Big Blue, Cee Ray (West Coast Dive Club, Reef Seekers & Douglas Dive Club), Explorer, Giant Stride (LAUPS – still going – check with Jim), Pacific Star (Dive 'N Surf), Sundiver, Sundiver II, Sundiver Express
FLYING DUTCHMAN (don't forget to include your "pirate" name)
Flying Dutchman (Come one, come all) - 139 signed up so far
Dutchman sign-ups by sponsor:
#1 - Reef Seekers Dive Co. –30
T2 - Antelope Valley Desert Divers - 5
T2 - Chamber crew – 5
T3 - Beach Cities Scuba - 4
T3 - Hollywood Divers – 4
T3 - Sharky's Scuba & Swim - 4
T3 - Sole Searchers – 4
T4 - Dive N' Surf - 2
T4 - Douglas Dive Club - 2
T4 - LAUPS – 2
T4 - Scubatude - 2
T5 @ 1 each:
Barnacle Busters
Burbank Dive Club
CA Science Center
Eco Dive Center
Hollywood Divers
Malibu Divers
NBDHMT
No Limits Scuba
Pacific Wilderness
Scuba World
Sharkbait
Signature Scuba
South Orange County Dive Club
Sport Chalet
Whalers Dive Club
Women Divers Hall of Fame
(No affiliation/sponsor listed – 59)
CHAMBER EVENING VIRTUAL "TABLE CHALLENGE" (table sponsor)
Unlimited seats total - 170 sold - whole bunch still available
Each table is listed individually with the number of seats sold. Each table seats as many as you like. (Table sponsors names are listed in the order they appear in our book because it's a nightmare to track them in this document any other way.)
Pacific Wilderness - 11 sold
Beach Cities Scuba - 16 sold
PADI – 10 sold
Sharky's - 6 sold
Barnacle Busters - 9 sold
Dive N' Surf - 5 sold
Ocean Institute – 20 sold
CA Science Center Divers - 20 sold
DDD - 3 sold
Liquid Adrenaline Divers - 0 sold
Scubatude - 2 sold
Scuba Schools of America - 0 sold
Deep Blue - 0 sold
Signature Scuba - 0 sold
Reef Seekers Dive Co. – 10 sold
South Orange County Dive Club - 6 sold
West Coast Dive Club – 5 sold
Hollywood Divers - 6 sold
In 2 Deep Diving – 19 sold
Antelope Valley Desert Divers - 3 sold
GUE #1 (David Watson) - 0 sold
GUE #2 (Karim Hamza) – 0 sold
Eco Dive Center - 8 sold
A.A.U.S. – 0 sold
Sea Stallions – 0 sold
Sharkbait – 3 sold
Unaffiliated - 7 sold
CHAMBER CHALLENGE DONATIONS
TOTAL - $80,430 as of 5/1. (Includes some yet not announced.) Who's next???
Direct donation link: https://dornsife.usc.edu/chamberday/signup-link/
Your Chamber needs you. Join in on the fun!!!!
————————————————————————————————————————————————
Ken Kurtis (Chairman)
& the Chamber Day 2020 Committee
www.chamberday.org
(310)652-4990