Posted by Chamber Day 2022 on April 01, 2022 at 09:47:35: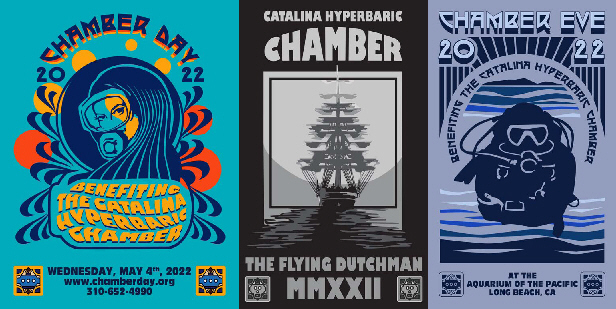 For obvious reasons, especially for those of you who know me well, I am extremely hesitant to post anything meaningful on April 1 of any year. But I assure you that everything that follows is legit, despite this day's claim to fame.
We've passed $45,000!!!
If there's anyone who understands how important hyperbaric chambers are, that would be the Divers Alert Network. And we're quite happy to welcome them back again this year as a Gold-level donor and supporter of our Chamber. (They also donate a prize for the raffle and will have one of their training staff come out to observe and participate in the event.) D.A.N. is a great partner and we're always happy to have their support.
We also have a couple of Silver-level donors today as well, both with close ties to our Chamber. Mike Madden has been a longtime Chamber volunteer and supervisor. Roy Houston is a retired marine biology professor and educator from LMU. And both Roy and Mike have been members of our Chamber Day Steering Committee. So they know how important community financial support is.
How about you? It may be April Fool's Day but there's no foolin' around at our Chamber when a diver in distress is brought in. And your donations during Chamber Day 2022 help keep us at the ready 24/7/365. So please give what you can when you can and join the committed folks who names are listed below. Here's the link: https://usc.qualtrics.com/jfe/form/SV_cTKwbhUykVzL95Q
CHAMBER CHALLENGE 2022 - $45,265 total (Updated 4/1/2022 @ 9AM)
New donors are marked with an asterisk.
Platinum ($5,000-9,999)
Beach Cities Scuba
Cyd Yonker
E. & J. Gallo Winery match (Yonker)
In memory of Dr. Jeff Sipsey (Anonymous)
Mike Emmerman, Pat Stockhausen, & TJ
Andrew Pilmanis
Gold ($1,000-4,999)
* D.A.N. (Divers Alert Network)
In memory of Dr. Jeff Sipsey (John Delaney)
Jim Collins
Pacific Wilderness
In memory of Dottie Frazier, WDHOF member & diving pioneer (Jeanne Sleeper)
Jeremy & Marlo Wolf Family Foundation

Silver ($500-999)
* Michael Madden
* Roy Houston
Gary Williams
Ron & Angi Burkard
Phillips 66 / 76 match (Burkard)
Brad Crocker
Larry Thompson
In memory of Lee Somers, PhD (Karl Huggins)
Don Lake
Rex Uber

Bronze ($100-499)
* Barnacle Busters LGBTQ Scuba Club
* In memory of Tom Wetzel (Tabby Stone & Linda Takvorian)
* In memory of Matt Cahill (Anthony Bailey)
* In memory of Isaac (Melissa Foo)
* Gary Sterling
Jean & Jerry Kasper
Wendell Cole
In honor of Di Krall (Kirsten Jenkins)
Debbie Karimoto
David Osorio
Craig Wood
Mike Couffer
Justin Jolly
Ellen Berman
Henry Gittler & Lisette Lieberman
Sharon Depriester
Jens Rubschlager
Roger Carlson
David Kasprzyk
Richard Miller
Cindy Shaw
Mark Perlstein
Other (less than $100)
* Victor Perez
Brock Dewey
Dan & Betty Orr
In memory of Patrick Bennett (Laura Priess)
————————————————————————
Ken Kurtis – Chairman
Chamber Day/Eve 2022
P.O. Box 634
Beverly Hills, CA 90213
(310)652-4990