Posted by Chamber Day 2022 on April 06, 2022 at 09:58:17: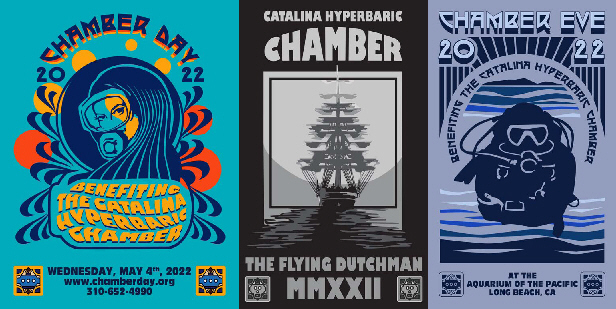 We've passed $50,000!!! We've got exactly four weeks to go until Chamber Day/Eve 2022 and while we're on a decent pace, there's still a lot of work ahead of us. Here's who's leading the way today.
We start with Dr. Susy Horowitz and a Gold-level donation. Susy's been a key member of our Steering Committee (as well as chair of our Stuffing Committee – which is how everything is mailed to you) for many, many years. And she obviously believes in and understands the value of having our Chamber available for divers in need.
Susy's joined by a corporate match from Apple. Two of their employees had signed up for other aspects of the event and Apple's policy is to not only match but actually double their donation level. Apple's HR let them know that, because of the pandemic, a lot of funds available for matching have gone unclaimed, so it's a good reminder to check with whoever you work for and see what the match policy/availability is.
On the Silver level, we have Dr. Nick Bird and his wife Kim. Nick used to work for D.A.N. so needs no schooling in the value of chambers. And, reinforcing the corporate match pitch mentioned above, their donation is matched by the firm they work for, IQVIA Biotech.
Nick & Kim are joined on the Silver level by Catalina Island Marine Institute/Catalina Sea Camp, showing that you don't have to be an individual to support our Chamber but companies can pitch in directly as well. CIMI teaches kids all about the ocean and committing to support things that matter is part of that education as well.
What's your level of commitment to our Chamber? Are you willing to make a Challenge donation and keep us moving along? A click on your mouse gets you going. Here's the link: https://usc.qualtrics.com/jfe/form/SV_cTKwbhUykVzL95Q
CHAMBER CHALLENGE 2022 - $50,320 total (Updated 4/6/2022 @ 9AM)
New donors are marked with an asterisk.
Platinum ($5,000-9,999)
Beach Cities Scuba
Cyd Yonker
E. & J. Gallo Winery match (Yonker)
In memory of Dr. Jeff Sipsey (Anonymous)
Mike Emmerman, Pat Stockhausen, & TJ
Andrew Pilmanis
Gold ($1,000-4,999)
* Dr. Susy Horowitz
* Apple match (Siebler)
D.A.N. (Divers Alert Network)
In memory of Dr. Jeff Sipsey (John Delaney)
Jim Collins
Pacific Wilderness
In memory of Dottie Frazier, WDHOF member & diving pioneer (Jeanne Sleeper)
Jeremy & Marlo Wolf Family Foundation

Silver ($500-999)
* Dr. Nick & Kim Bird
* IQVIA Biotech match (Bird)
* Catalina Island Marine Institute/Catalina Sea Camp
Michael Madden
Roy Houston
Gary Williams
Ron & Angi Burkard
Phillips 66 / 76 match (Burkard)
Brad Crocker
Larry Thompson
In memory of Lee Somers, PhD (Karl Huggins)
Don Lake
Rex Uber

Bronze ($100-499)
* Peter Croke
* Matt Levinson
* Michael Lewis
* Chris Liebl
* Doug Iverson
* Erin Quigley
* Ann Close
Barnacle Busters LGBTQ Scuba Club
In memory of Tom Wetzel (Tabby Stone & Linda Takvorian)
In memory of Matt Cahill (Anthony Bailey)
In memory of Isaac (Melissa Foo)
Gary Sterling
Jean & Jerry Kasper
Wendell Cole
In honor of Di Krall (Kirsten Jenkins)
Debbie Karimoto
David Osorio
Craig Wood
Mike Couffer
Justin Jolly
Ellen Berman
Henry Gittler & Lisette Lieberman
Sharon Depriester
Jens Rubschlager
Roger Carlson
David Kasprzyk
Richard Miller
Cindy Shaw
Mark Perlstein
Other (less than $100)
Victor Perez
Brock Dewey
Dan & Betty Orr
In memory of Patrick Bennett (Laura Priess)
————————————————————————
Ken Kurtis – Chairman
Chamber Day/Eve 2022
P.O. Box 634
Beverly Hills, CA 90213
(310)652-4990