Posted by Chamber Day 2022 on April 30, 2022 at 11:37:14: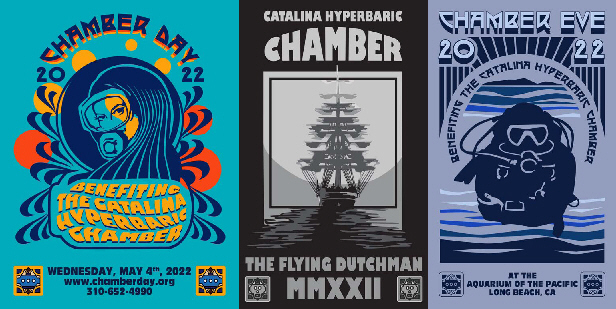 This will be the last pre-event update as we wind down the final days until Chamber Day 2022. Things are looking promising. Can we beat last year's record total? Quite frankly, that's in YOUR hands now, not ours. There are still plenty of ways for you to get involved and support our Catalina Hyperbaric Chamber.
Once again, here's the list of all of the components of the event and the current counts. (Please note that ticket sales for Chamber Eve as well as the VGD add-on package have ended.) Choose the ones that appeal to you and let's keep our Chamber financially sound. The direct link to our sign-up page is: https://usc.qualtrics.com/jfe/form/SV_cTKwbhUykVzL95Q
All attendees to Chamber Day or Chamber Eve must conduct a self-health screening prior to attending. If you have any symptoms or are currently in your isolation/quarantine period due to a recent infection or exposure, you may not attend. While masks are not required for this event, we ask that you consider wearing one for your own protection and the protection of others. Note that these protocols are subject to change.
(Please remember it takes a few days from when you sign-up until your donation is fully processed so there may be sign-ups in the pipeline that are not reflected below
CHAMBER DAY BOATS – TWO DIVES & A WALKING TOUR OF OUR CHAMBER
133 total spots - 106 sold (80%), 27 still available
(Proof of COVID vaccination is NOT required to go on a boat or do the island tour)
Boats can be booked through the website, the boat sponsor, or by calling us at the general phone number:
Asante (SSA) – 9 sold, 5 available
Bottom Scratcher (zen dive co) – SOLD OUT
Cee Ray (Signature Scuba) - 19 sold, 1 available
Explorer - 9 sold, 11 available
Giant Stride (LAUPS) - SOLD OUT (6)
Pacific Moon (SSA) – SOLD OUT (12)
Pacific Star (SSA) - 23 sold, 2 available
Sundiver Express - 12 sold, 8 available
FLYING DUTCHMAN (don't forget to include your "pirate" name)
Flying Dutchman - 110 signed up so far
Dutchman sign-ups by sponsor:
T1. Reef Seekers – 19
T2. Chamber crew - 5
T2. Beach Cities – 5
T4. Douglas Dive Club – 4
T4. AVDD – 4
T6. Signature Scuba - 2
T6. Dive 'N Surf – 2
T6. Sole Searchers – 2
T6. Dive & Photo - 2
T6. Riverside Scuba Locker – 2
T6. Law Office Aquariums – 2
T6. GUE – 2
T6. Barnacle Busters – 2
T6. Sharkbait Dive Club – 2
T6. Eco Dive Center – 2
T16. zen dive co. – 1
T16. Dive 'N Trips (not a typo – we checked) – 1
T16. Sharky's – 1
T16. CA Science Center Divers – 1
T16. L.A. County Sheriff's Dept. – 1
T16. CA Diving News – 1
T16. Aquarium of the Pacific - 1
T16. Hollywood Divers – 1
T16. Pacific Wilderness – 1
T16. Ocean Gear – 1
T16. Scubatude – 1
T16. Old Buoys Club - 1
No affiliation/sponsor listed - 41
CHAMBER EVENING IN-PERSON TABLES (table sponsor)
267 seats total (less than we usually do)
(Proof of COVID vaccination IS required to be admitted to the Aquarium for Chamber Eve)
TICKET SALES FOR CHAMBER EVE HAVE ENDED.
WE THANK OUR TABLE SPONSORS:
Antelope Valley Desert Divers (AVDD)
Barnacle Busters
Beach Cities Scuba
CA Science Center Divers
Deep Blue
Eco Dive Center
GUE (David Watson)
In2Deep Diving
Liquid Adrenaline Divers
PADI
Pacific Wilderness
Reef Seekers Dive Co.
Sherry Griswold Foundation
Signature Scuba
South Orange County Dive Club (SOCDC)
zen dive co
V.G.D. (Very Generous Diver) Ch-Eve VIP package
TICKET SALES FOR THIS HAVE ENDED - 50 sold
VIRTUAL CHAMBER EVENING (table sponsor)
Unlimited seats - 51 sold
Each "attendee" gets a Ch-Eve short-sleeved t-shirt and a private link to the live-stream of Chamber Eve
Beach Cities Scuba - 3 sold
Barnacle Busters – 3 sold
CA Science Center Divers – 4 sold
Signature Scuba – 2 sold
Reef Seekers – 10 sold
Liquid Adrenaline Divers – 1 sold
Hollywood Divers – 0 sold
In2Deep Diving – 6 sold
GUE – 4 sold
AAUS – 0 sold
Dive N Surf – 6 sold
Unaffiliated – 12 sold
CHAMBER CHALLENGE TOTAL
$115,475 as of 4/29. Can we hit $120,000??? Wow!!! Your generosity is blowing us away.
Your Chamber needs you. Join in on the fun!!!!
Ken Kurtis (Chairman)
& the Chamber Day 2022 Committee
www.chamberday.org
(310)652-4990