Posted by Chamber Day 2022 on May 07, 2022 at 18:48:13: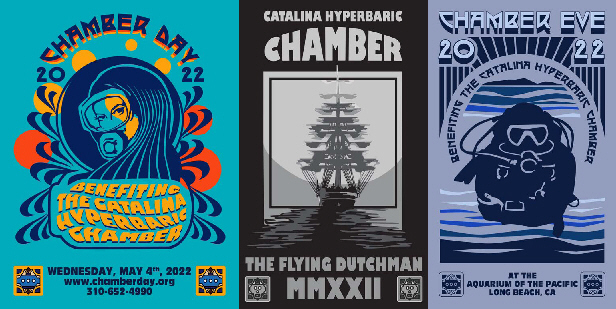 This will be the last event update and reflects where we were on May 4. We will likely get some late Dutchman and Challenge sign-ups (both stay open through May 15) so our absolute final total will hopefully be higher. (Maybe we can even crack $180K.)
But here's the key number: $176,144 raised. Wow. Simply wow.
Once again, here's the list of all of the components of the event and the May 4 counts.

CHAMBER DAY BOATS – TWO DIVES & A WALKING TOUR OF OUR CHAMBER
111 divers dove
Asante (SSA) – 9 divers
Bottom Scratcher (zen dive co) – 16 divers
Cee Ray (Signature Scuba) – 21 divers
Explorer – 11 divers
Giant Stride (LAUPS) – 6 divers (runs this summer)
Pacific Moon (SSA) – 12 divers
Pacific Star (SSA) - 23 divers
Sundiver Express – 13 divers
FLYING DUTCHMAN (don't forget to include your "pirate" name)
Flying Dutchman - 114 signed up so far – will stay open through 5/15
Dutchman sign-ups by sponsor:
T1. Reef Seekers – 20
T2. Chamber crew - 5
T2. Beach Cities – 5
T4. Douglas Dive Club – 4
T4. AVDD – 4
T6. Signature Scuba - 2
T6. Dive 'N Surf – 2
T6. Sole Searchers – 2
T6. Dive & Photo - 2
T6. Riverside Scuba Locker – 2
T6. Law Office Aquariums – 2
T6. GUE – 2
T6. Barnacle Busters – 2
T6. Sharkbait Dive Club – 2
T6. Eco Dive Center – 2
T6. Pacific Wilderness – 2
T17. zen dive co. – 1
T17. Dive 'N Trips (not a typo – we checked) – 1
T17. Sharky's – 1
T17. CA Science Center Divers – 1
T17. L.A. County Sheriff's Dept. – 1
T17. CA Diving News – 1
T17. Aquarium of the Pacific - 1
T17. Hollywood Divers – 1
T17. Ocean Gear – 1
T17. Scubatude – 1
T17. Old Buoys Club – 1
T17. DDD – 1
T17. Cee Ray - 1
No affiliation/sponsor listed - 42
CHAMBER EVENING IN-PERSON TABLES (table sponsor)
269 diners
Our table sponsors:
Antelope Valley Desert Divers (AVDD)
Barnacle Busters
Beach Cities Scuba
CA Science Center Divers
Deep Blue
Dive Bleu
Eco Dive Center
GUE (David Watson)
In2Deep Diving
Liquid Adrenaline Divers
PADI
Pacific Wilderness
Reef Seekers Dive Co.
Scuba.com
Sherry Griswold Foundation
Signature Scuba
South Orange County Dive Club (SOCDC)
zen dive co
V.G.D. (Very Generous Diver) Ch-Eve VIP package
52 fun people
VIRTUAL CHAMBER EVENING (table sponsor)
73 virtual "attendees"
Our virtual table sponsors:
AAUS
Barnacle Busters
Beach Cities Scuba
CA Science Center Divers
Dive N Surf
GUE
Hollywood Divers
In2Deep Diving
Liquid Adrenaline Divers
Reef Seekers
Signature Scuba
CHAMBER CHALLENGE TOTAL
$120,290 as of 5/4 at Noon. The Challenge stays open through 5?15 for late donations.

Thank you all for making this such a successful and fabulous year!!!
Ken Kurtis (Chairman)
& the Chamber Day 2022 Committee
www.chamberday.org
(310)652-4990