Posted by Patrick on September 03, 2010 at 08:46:13:

In Reply to: Re: More clarification (IMHO) posted by Jon on September 03, 2010 at 06:49:51:

Baring my Soul on Black Sea Bass…

I have attached a picture from my misspent youth, a time when my SCUBA certification was still a year off, when I was into fishing. I had forgotten this particular trip - probably guilty amnesia - until I recently unearthed the image below – I can only claim the callow ignorance of youth for the taking of sheephead AND a way, way juvenile GBS. Now that I have been reminded of this, I will carry the guilt always.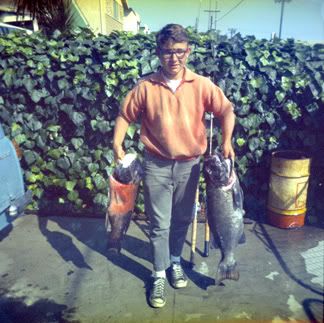 Mea Culpa, Mea Culpa, Mea Maxima Culpa…
The only slightly mitigating part of the whole embarrassing event was that both fish came from deep water and had "popped" their swim bladders out and probably would not have survived being released.
The other embarrassment is the hi-water jeans and the Converse sneakers – Wow! I didn't think Mom dressed me that badly… ;-)
The other thing is never, never, never tell Ken he's in error about something because, 1, He's usually right, and 2, he tends to get pouty. 8-)